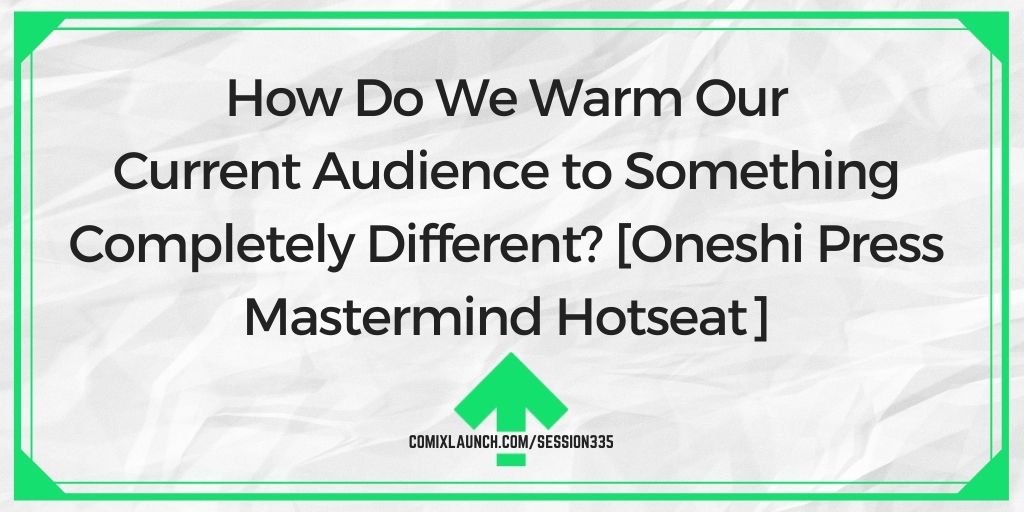 The Oneshi Press team of Lynsey G. and Jayel Draco are looking to strategize on ways to warm their existing audience of primarily comic fans to some new offerings from them in other product categories and formats. Will a mostly comic audience warm to prose or other entertainment products? Or should they start they're audience building from scratch for new offers? In this mastermind style session, a round table of ComixLaunch Pros facilitated by Tyler James shares a wealth of tips for creators who offer a multitude of products to their fans.
---
Highlights of This Session Include:
The importance of using existing audiences to build new ones.
Where we can expect audiences to overlap…and where we shouldn't.
How to go back to basics when it comes to changing your value proposition to your audience.
Plus: Tyler's initial take on the uproar over Kickstarter's latest announcement.
---
This Session is Sponsored by…
…the ComixLaunch MasterMind. Fighting isolation and staying connected with others is more important than ever right now…
If you would you like to meet once a month with a group of serious, like-minded creators to talk about your projects and creative business for mutual support and accountability this year, go to ComixLaunch.com/mastermind and get on the interest list.
New groups will be forming in December and meeting in January!
---
In the Mastermind Hotseat Today:
Oneshi Press is the writer-and-illustrator team of Lynsey G and Jayel Draco, veteran of a half-dozen successful Kickstarter projects including comics anthologies; the sci-fi-fantasy series Children of Gaia; the zom-com caper Mr. Guy: Zombie Hunter; the vigilante-dogs comic series PACK & more!
---
In the Mastermind Round Table:
Big Tim Stiles (Comic writer, actor, podcaster)
Shaun Keenan (Publisher COMICS2MOVIES & Comic writer)
Chris Beck (Comic Illustrator & Graphic Designer)
James Mascia (Writer & Educator)
---
Links Mentioned in Today's Episode:
The Future of Crowdfunding Creative Projects https://www.kickstarter.com/articles/the-future-of-crowdfunding-creative-projects
---
More About Our Sponsor:
Okay, creators, I have a question for you…
Right now, how many people are there on this planet who know exactly what it is that you're trying to create this week, this month, this year, and in the next five years and in your lifetime?
And how many of those people ALSO want AND can help you to achieve those big dreams… and are regularly thinking about what they can do to help you on your mission?
Right now, do you have other creators in your corner who you trust to offer good, knowledgeable support and advice about the issues and struggles you face as a comic creator?
Are these creators who are always going to tell it to you straight, even if it's not what you want to hear, but what you need to hear to level up?
And are you meeting with these people on a regular consistent basis to talk about these things?
Seriously, how many people do you have in your world right now who fit that full description?
If the answer is "NOT ENOUGH", then I want you to imagine that there was a small group of high performing creators, who you really respect and you admire, and they constantly had you on their minds.
Imagine you were meeting with them regularly for mutual support, brainstorming and accountability.
Would that make a difference in your creative business and in your life?
If so, then I want to invite you to learn more about the ComixLaunch mastermind groups starting up in the NEW YEAR.
Just go to ComixLaunch.com/mastermind to get on the interest list. We'll be accepting applications for just a few weeks only in December to fill brand new groups who start meeting in January.
A ComixLaunch Mastermind Group could be just the thing you're looking for to have a massive creative breakthrough in the new year.
So again, ComixLaunch.com/mastermind is where you'll find all that information.
You'll get on the interest list and potentially get into an awesome ComixLaunch Mastermind group of your own, and hit the ground running with us in January.
---
ComixLauncher [335]
Are your current product offerings too broad or too narrow?
---
How to Find Out More About Today's Hot Seat Creator:
http://patreon.com/oneshipress
http://facebook.com/oneshipress
http://instagram.com/oneshipress
Podcast: Play in new window | Download | Embed
Subscribe: Apple Podcasts | RSS