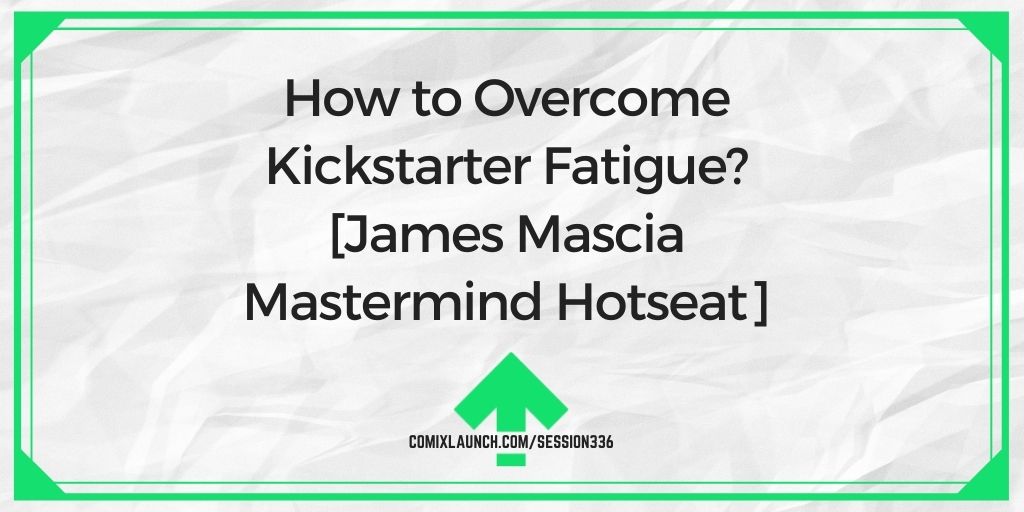 In 2021, writer James Mascia performed the Herculean feat of launching ten successful Kickstarter campaigns within the calendar year! So, it should come as no surprise that James is interested in tips for overcoming the fatigue of constant Kickstarter launching. In this mastermind style session, a round table of ComixLaunch Pros facilitated by Tyler James shares both admiration for James' accomplishment and some advice for how to lighten the load heading into the new year.
---
Highlights of This Session Include:
Figuring out where you create the most value in a Kickstarter launch.
How James turned the Covid shutdown into an incredible creative opportunity.
The promise and pitfalls of ramping up your Kickstarter launching.
Plus: Wishing you a very Happy Holidays and a glorious start to the new year!
---
This Session is Sponsored by:

---
In the Mastermind Hotseat Today:
James Mascia is the creator of High School Heroes, Anti-Christ, The Poe Murders, and Vengeance of Dracula. He is a writer who enjoys creating stories that everyone can enjoy. He is a teacher by day, and a comic con junkie on weekends (whenever they start up again).
---
In the Mastermind Round Table:
Big Tim Stiles (Comic writer, actor, podcaster)
Shaun Keenan (Publisher COMICS2MOVIES & Comic writer)
Chris Beck (Comic Illustrator & Graphic Designer)
Lynsey G & Jayel Draco of Oneshi Press (Writer, Artist, Publishers)
---
Links Mentioned in Today's Episode:
---
More About Our Sponsor:
Are you thinking about starting or upgrading your online shop so you can sell more of your art?
Are you tired wasting time and energy hacking together cheap, limited solutions that aren't serving you or your potential customers very well?
Instead of spinning your wheels only looking at free or dirt-cheap store options, why not grab an affordable full-service online sales platform optimized for sales like Shopify?
With Shopify…
You don't need Design skills. Shopify has dozens of beautiful, fully-customizable, mobile-friendly templates to get a perfectly branded look and an online stop you'll be proud of.
You don't Coding skills. With Shopify, setting up your store is simple, and you'll be selling in no time at all, even if technology hates you.
And you don't even need a Credit Card to get started. With this ComixLaunch offer, you can try Shopify free for 14 days. No risk, and no credit card required.
What you get with Shopify is a…
Fully customizable website, online store, and blog… your store can be your website!
Unlimited products!
Smooth integration to sell on channels like Facebook, Amazon and Pinterest.
24-7 Customer support!
More than 500,000 creative businesses are powered by Shopify, including the CisforCthulhu.com store which I manage… and couldn't be happier with it.
Stop messing around with subpar online shop solutions and try Shopify.
To start your 14-day free trial of Shopify, go to ComixLaunch.com/shopify
---
---
ComixLauncher [336]
How many Kickstarters do you think you could launch in a single calendar year? What would you have to do to add two more launches to that max number?
---
How to Find Out More About Today's Hot Seat Creator:
https://www.twitter.com/drenproductions
https://www.facebook.com/DrenProductions
https://www.drenproductions.com/
Podcast: Play in new window | Download | Embed
Subscribe: Apple Podcasts | RSS