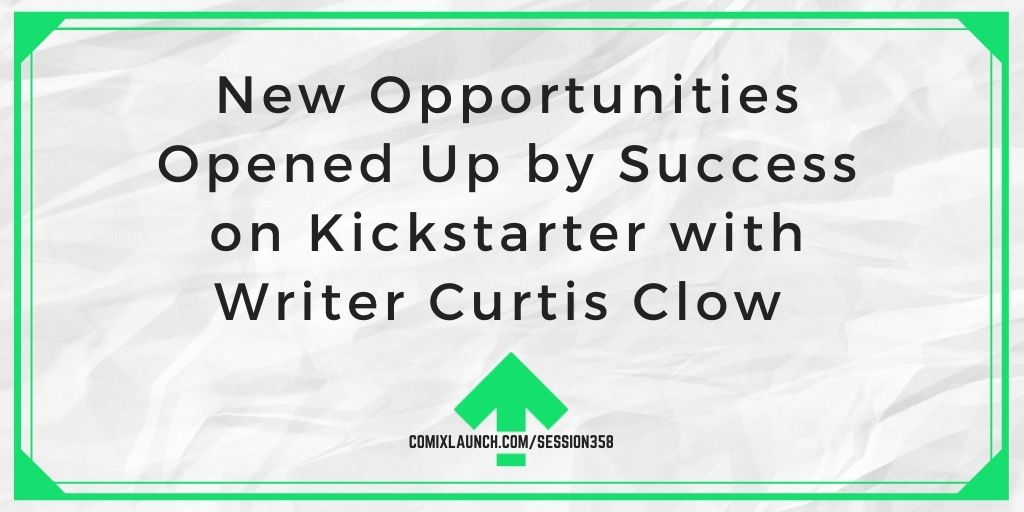 Curtis Clow is the writer and co-creator of a number of highly successful fantasy graphic novel series on Kickstarter, including Beastlands, The Wild Cosmos, Slightly Exaggerated and Majestic. In this session, Tyler James talks to Curtis about how his approach to Kickstarter has evolved over the years, and some new opportunities that have been created by the success on that platform.
---
Highlights of This Session Include:
Why Curtis serializes two issues at once for his hit series Beastlands & Slightly Exaggerated
How Curtis juggles multiple ongoing series on Kickstarter and beyond.
How Curtis is taking his Kickstarter funded work to the direct market by partnering with established publishers.
Plus: The ComixLaunch Mastermind will be opening its doors again soon… is this the year you get a creator MasterMind in your corner?
---
This Session is Sponsored by…
…the ComixLaunch MasterMind. Fighting isolation and staying connected with others is more important than ever right now…
If you would you like to meet once a month with a group of serious, like-minded creators to talk about your projects and creative business for mutual support and accountability this year, go to ComixLaunch.com/mastermind and get on the interest list.
New groups will be forming in June and start meeting in July!
---
Today's Featured Guest:
Curtis Clow is the writer/co-creator of comics including The Wild Cosmos, Beastlands, Slightly Exaggerated and Majestic, and has done freelance writing for comics and video games. In just a few short years, he's racked up 15 successful Kickstarter launches, and is back on the platform this month with the 4th issue of Slightly Exaggerated.
---
Links Mentioned in Today's Show:
Check out Curtis' latest project on Kickstarter: Slightly Exaggerated #1-4: A Treasure Hunt Fantasy Adventure
https://www.kickstarter.com/projects/curtisclow/slightly-exaggerated-1-4-a-treasure-hunt-fantasy-adventure
---
More About Our Sponsor:
Okay, creators, I have a question for you…
Right now, how many people are there on this planet who know exactly what it is that you're trying to create this week, this month, this year, and in the next five years and in your lifetime?
And how many of those people ALSO want AND can help you to achieve those big dreams… and are regularly thinking about what they can do to help you on your mission?
Right now, do you have other creators in your corner who you trust to offer good, knowledgeable support and advice about the issues and struggles you face as a comic creator?
Are these creators who are always going to tell it to you straight, even if it's not what you want to hear, but what you need to hear to level up?
And are you meeting with these people on a regular consistent basis to talk about these things?
Seriously, how many people do you have in your world right now who fit that full description?
If the answer is "NOT ENOUGH", then I want you to imagine that there was a small group of high performing creators, who you really respect and you admire, and they constantly had you on their minds.
Imagine you were meeting with them regularly for mutual support, brainstorming and accountability.
Would that make a difference in your creative business and in your life?
If so, then I want to invite you to learn more about the ComixLaunch mastermind groups starting up in JULY.
Just go to ComixLaunch.com/mastermind to get on the interest list. We'll be accepting applications for just a few weeks only in December to fill brand new groups who start meeting in January.
A ComixLaunch Mastermind Group could be just the thing you're looking for to have a massive creative breakthrough in the new year.
So again, ComixLaunch.com/mastermind is where you'll find all that information.
You'll get on the interest list and potentially get into an awesome ComixLaunch Mastermind group of your own, and hit the ground running with us in July.
---
ComixLauncher [358]:
What was your biggest takeaway from this conversation with Curtis? Success leaves clues, and we've had some big time successes on the ComixLaunch Podcast this year… are you collecting those clues and applying them to your creative aspirations?
---
How to Find Out More About Our Featured Guest:
www.CurtisClow.com Contact Curtis via email ([email protected]) or on Twitter and Instagram @CurtisClow
Podcast: Play in new window | Download | Embed
Subscribe: Apple Podcasts | RSS