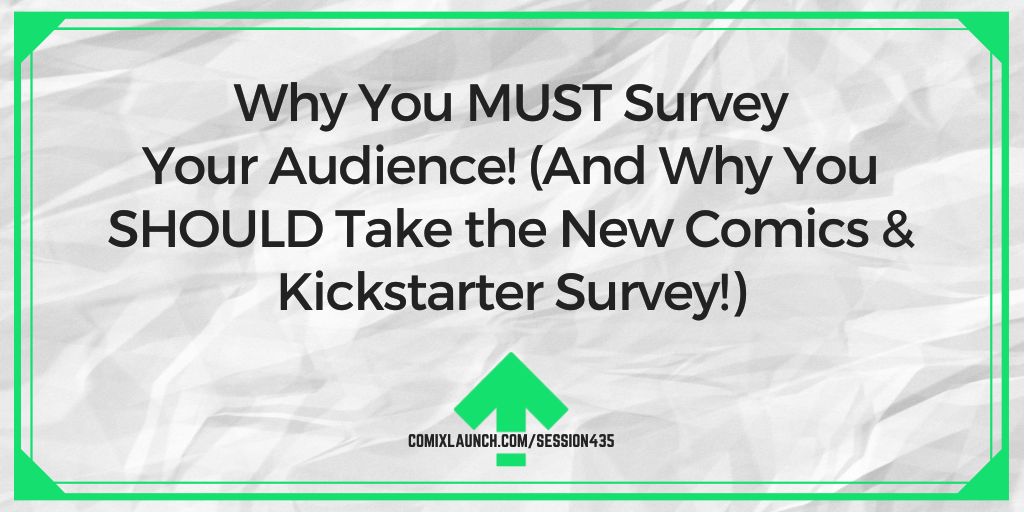 The practice of regularly surveying my audience has been a major reason why Tyler's been able to generate several million dollars in sales over the past decade. In this session, he'll share 5 savvy survey tips that will help you survey your audience. Plus, a new Comics & Crowdfunding survey is LIVE for ComixLaunch listeners at comixlaunch.com/survey.
---
Highlights of This Session Include:
4 distinct opportunities to gain tremendous value from surveys.
Tyler's go-to survey tool. (The best part, it's FREE!)
A detailed look at a survey Tyler just sent out intended to prime the pump for what he plans to be his biggest Kickstarter launch ever!
Plus: The ComixLaunch Survey is now open at ComixLaunch.com/survey! A free bonus training for every creator who participates, as well as a chance to win a $50.00 Amazon Gift Card!
---
Today's Session is Brought to You By…
THE COMIXLAUNCH SURVEY! Comic creators and crowdfunders, ComixLaunch wants to hear from YOU! Go to ComixLaunch.com/survey to fill out a short survey about YOUR experience with crowdfunding! There are bonuses and prizes for survey participants! Get all th
---
Links Mentioned in Today's Show:
The ComixLaunch Survey: ComixLaunch.com/survey
The C is for Cthulhu 10th Anniversary Survey: https://docs.google.com/forms/d/e/1FAIpQLSdSC9moukXdBaZrdOo8G7RYbIiYbjagwOroSzEEgcprXyW7PQ/viewform
---
More About Our Sponsor:
Hey, guys! Before you go, I just want to remind you to head over to Comixlaunch.com/survey in order to take our first big Comics & Kickstarter Survey in over eight years!
This survey will help shape the direction of this show and the resources we create over the next year…
We're still committed to making ComixLaunch the single best resource for comic book creators interested in using Kickstarter the right way to fund their projects, and advance their careers… but we can only do that with your input.
Please head to comixlaunch.com/survey and fill out the short survey, I promise it will only take a few moments and yet have a huge impact in what we're able to do for you.
And as a special bonus… Everyone of you who completes the ComixLaunch survey will be given instant access to a private bonus ComixLaunch training!
And once we hit 200 survey responses, I will be pulling TWO winners at random to receive a $50.00 Amazon gift card in time for the holidays!
I promise you… it will be well worth your time, and Comixlaunch.com/survey is where it's at.
---
ComixLauncher [435]
Please take a few minutes and complete the Comixlaunch.com/survey
Podcast: Play in new window | Download | Embed
Subscribe: Apple Podcasts | RSS