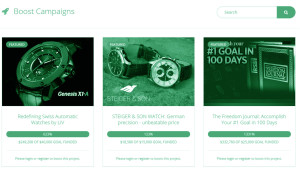 Tyler breaks down an exciting conversation he had with the co-founder of Kickbooster, a new service that empowers and rewards your backers, fans, and affiliates for promoting your Kickstarter campaign. This just might be the "dead zone" cure Kickstarter creators have been searching for.
---
Today's Session is Brought to You by
The Freedom Journal
Today's session is brought to you by The Freedom Journal. Go to ComixLaunch.com/freedom to accomplish your #1 goal in just 100 days.
---
Session Table Setting
Welcome back to ComixLaunch!
Have I got a good one for you today. Seriously, this one is a game changer, boys and girls, and if you're one of my veteran Kickstarter creator listeners who has seen it all… clean out your ears and turn up the volume.
There's a new service that empowers and rewards your backers, fans, and affiliates for promoting your Kickstarter campaign. This just might be the "dead zone" cure Kickstarter creators have been searching for.
---
Before I bring on my special guest to talk about this exciting new service… I just wanted to give a short update on the thing I'm most pumped up about in 2016…
The ComixLaunch Course!
In less than a week, the first live session will be taking place, a Pilot course, where I'm taking 10 hard working creators, all looking to launch a Kickstarter campaign within the next six months or so, step by step through the process of building a fundamentally sound campaign that will take their careers to the next level.
Jeremy Melloul and I have been working feverishly behind the scenes to get this course ready over the past month, and it's exciting to finally be getting this thing Kicked off.  I'm nervous, I'm excited, I'm so looking forward to seeing these campaigns get built and get funded.  I've worked on a lot of projects, from small comic projects to half a million dollar video game projects, but this course, when all is said and done, may be the thing I'm most proud of.
So, yes, I'm pumped to finally be launching The ComixLaunch Course.
It's a pilot program that filled up quickly. It's currently closed, but we will likely be opening enrollment again in the spring.
If you might be interested go to comixlaunch.com/course
Okay… I talked a big game about today's episode… time to back it up!
---
Whoops
I think I jinxed myself. I had my awesome interview via Skype.  I went and recorded the intro and was obviously pumped.  I went to get the recording only to find didn't record properly, and I have no idea what went wrong.
Now, I thought about scrapping the episode, but the content and discussion was too good. I decided it was not fair to my guest to re-record, but will try to get him back at somepoint.
So, I'm going to share my notes from the awesome conversation with you… just the facts.
I thought about trying to cover this up, but it was a good teachable moment.
Always stand up tall, plant your feet, but keep those knees bent, stay flexible, and go with the flow.
---
Guest Introduction
My guest today is Co-Founder of Kickbooster, the first cash back affiliate program for Kickstarter!
He works with crowdfunding campaigns to help them reach their goals, and does marketing and community building for Kickbooster.
Welcome to ComixLaunch Mr. Scott Adamson!
---
Guiding Discussion Questions
Kickbooster
1) Okay, let's start with the basics regarding Kickbooster.  What's the elevator pitch for your service?
Our service is the world's first affiliate program for crowdfunding campaigns!
What is an Affiliate Program?

Amazon
Online Marketing
Podcast Sponsorships
At Kickbooster we are trying our best to simplify the marketing aspect of your crowdfunding campaign. Simply put, Kickbooster allows campaign creators to run a referral program during their crowdfunding campaign and provides incentive for backers to share and promote your campaign.Kickbooster is crowdfunding campaign marketing made easy!
Getting Started

Signing up for Kickbooster is a snap – just click on the "Try Kickbooster for free" button on the Kickbooster home page and follow the simple steps. After you have successfully set up your Kickbooster account you will be presented with a unique campaign page that you can direct your boosters to and offer them incentives for sharing your campaign.
How does it work?

Kickbooster is a powerful, yet simple to use tool. The short answer is that we use Google Analytics tracking code that you place on your Kickstarter page to track when someone visits your campaign after clicking on one of your Booster's referral URLs. It only takes a few minutes to setup and doesn't require any development or design experience.
Who should use Kickbooster?

Everyone running a crowdfunding campaign can benefit from using Kickbooster. The best way to reach your fundraising goal is through word of mouth. Kickbooster gives your friends, family, and backers a reason to spread the word about your campaign, drastically increasing your chances of reaching your funding goal.
What does it cost?

• Kickbooster has NO upfront cost and is risk free to try with your campaign.
• We collect 3% of all the pledges generated through Kickbooster as payment,
plus an additional 10% that is paid out as commission to your Boosters (13% total).
If Kickbooster raises you $1000, we collect $130 once your campaign is successfully funded.
$100 is paid to your Boosters and $30 is used to cover the processing and administration fees.
• Commission is only collected on successfully funded campaigns. If your campaign
doesn't get funded, it costs you nothing! Again, making it risk free!
• We handle everything else, including tracking and paying your boosters.
• You can track all of the pledges received in real-time using your Kickbooster Dashboard.
• Payment is due after you receive your funds from Kickstarter and no payment is due upfront.
• Becoming a Booster is completely free, in fact you make money for helping back campaigns.
There is no risk in trying Kickbooster!
2) How does Kickbooster help Kickstarter creators?  How does a creator promote their product with Kickbooster?  Is it open to any project?
Anyone running a Kickstarter can be a Kickbooster
Less 5 Minutes
need a live link
Google Analytics – video tutorials
Dashboard

# of Booster
Links
How many boosts
total dollars
Percentage of funding

Booster Leader Board
Default 10% Back
Set up incentives within Kickbooster
Use the service to leverage influencers
3) How does Kickbooster work from the backers or affiliates perspective?  What are the advantages of affiliate promotion, vs. other kinds of promotion?
4) Let's talk money… How does Kickbooster make money?  How and when do affiliates get paid? How and when are Kickstarter creators charged?
In KS terms of service for creators, it clearly prohibits as rewards:
Financial incentives
Raffles, lotteries, and sweepstakes
Coupons, discounts, and cash-value gift cards
Did you talk to KS regarding whether or not your service was within their TOS prior to launching?
5) Backer attrition (backers who pledge but whose CC's aren't charged) is a reality of most campaigns. Does Kickbooster account for that?
6) Any big Kickbookster success stories so far?
---
 Sponsor Mid-Roll
In a moment, I'm going to give you today's ComixLauncher, but first, we need to thank our sponsor…
Over the past two years, Podcaster Jon Lee Dumas has interviewed more than 1200 of the world's leading creative entrepreuners. What sets these high performers apart?
It's Their ability to SET and ACCOMPLISH goals.
It's also the thing most struggling Entrepreneurs fail to do.
The Freedom Journal is a gorgeous, 300-page, faux leather-bound, gold embossed journal that will guide you in the accomplishment of your #1 S.M.A.R.T. goal:
S – Specific
M – Measurable
A – Attainable
R – Relevant
T – Time-bound
A unique, step-by-step process:
With daily tasks, nightly recaps, 10-day sprints and quarterly reviews, The Freedom Journal WILL hold you accountable to accomplishing your #1 goal in 100 days. And accountability is everything.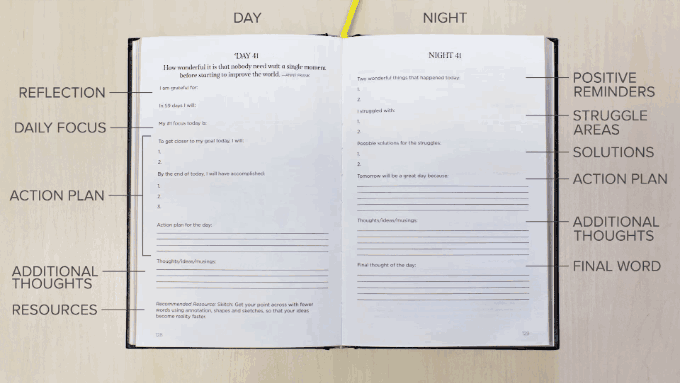 John has partnered with Pencils of Promise, and proceeds are going to build a school in a developing country on behalf of those who are supporting The Freedom Journal.
Backers of The Freedom Journal to know that by supporting this campaign they're giving themselves the gift of accomplishing their #1 goal in 100 days AND giving the gift of education to those less fortunate.
And know that ComixLaunch Listeners… because ComixLaunch.com/freedom is an Kickbooster link, know that you'll also be helping the show.
Even more — If you become a backer and you use The Freedom Journal with your #1 goal being the planning and launching of a Kickstarter… I'll have you on the ComixLaunch show to talk about.
Go to ComixLaunch.com/freedom to accomplish your #1 goal in just 100 days.
---
ComixLauncher
It's time for today's ComixLauncher.
A ComixLauncher is a short, actionable activity you can and should do right now, or immediately after listening to the show. They're all activities I've done myself, and will get you one step closer to a successful ComixLaunch. They'll transform this Podcast from a passive, lean back activity centered around Tyler James, into an active, lean-forward activity centered around YOU.
Today's ComixLauncher
Go to kickbooster.me and sign up to become an affiliate booster. 
All of us our busy, but we all can spare 5 minutes to do this. [NA — What comes out on paper may surprise you. And if you'd like to share the results of your ComixLauncher with me, I'd love to see them. Email me at [email protected], subject line: ComixLauncher #29.]
---
Wrap Up
Wrap Up Questions
1) Do you have any recommendations for Kickstarter creators?
Launch boom… http://launchboom.com/
rule of thumb
Formula – email list = campaign goal / 2% x average pledge level
Paid media through Facebook.
2) What's the best place to keep up with you online?
kickbooster.me — Click the chat icon in the bottom right, and that's usually Scott you're talking to!
Thanks for Listening.
---
Have You Subscribed, Rated, or Reviewed ComixLaunch Yet?
If you've enjoyed this Session of ComixLaunch, I need you to do me a favor… actually, I need three favors. Please Subscribe, Rate and Review ComixLaunch on iTunes.
They're the rocket fuel this show is running on, and the sooner you do it, the more powerful your action will be. Don't wait to give us some love!
>>> CLICK HERE TO LEAVE A REVIEW ON iTUNES <<<
Provide a rating, 1-5 stars and leave an honest review.
This can be done in less than 2 minutes and could make HUGE difference to the show.
Podcast: Play in new window | Download | Embed
Subscribe: Apple Podcasts | RSS