A great title can do wonders for your project and career. In this first of two sessions on titles, Tyler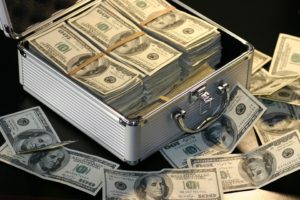 shares his "Million Dollar Title" checklist. If you're having trouble giving your next series a name, this session will help!
---
Today's Session is brought to you by
KrakenPrint
Need a reliable printer for your next comic book or graphic novel print run? Then you need to unleash the Kraken. Head to ComixLaunch.com/Kraken for 5% off your entire first order.
---
Session Table Setting
Are you struggling to name your next book or series?  Or are you starting to work on your next Kickstarter project and not sure exactly what to write for your project title?  Titles are INCREDIBLY important; Important for you book success… and your Kickstarters.
I have an in-depth training queued up for you today that's going to cover them both!
Course Updates / Shoutouts
Banner Day Yesterday… 2 more ComixLaunch Course participants finished their KS.
Jim Whiting crushed his second Kickstarter for Margo: Intergalatic Trashcollector #2. More than doubled the Backer
Jim a great guy, creator from my hometown Albany, NY!
Raised $2,607 pledged of $2,000 goal… more than doubled the # of backers for his first KS. (Any of you who've put out a #2 issue knows how hard it is to get anywhere close to the #s you do on #1… so great job there by Jim.
Michelle Palmer kicked major but on the Meraki campaign…
Raised $8,136 pledged of $5,000 goal for her first KS.
Snuck a sweeeet silver foil stretch goal upgrade in there right at the very end.
Love telling the stories of these creators running great campaigns, getting their projects funded and taking their careers to the next level.  That's what we're all about here at ComixLaunch.
ComixLaunch.com/course to get on the interest list for the next time we open our doors.
What is Today's Episode About?
Titling Master Class Part 1: Titling Your Next Book or Series
Your Million Dollar Title Checklist
1.) Is it Ironic?
2.) Does it Say What Your Story Is?
3.) Can it be Shorter?
4.) Is it memorable?
And Then Emily Was Gone
5.) Does it Pass the Internet Test?
Google?
Amazon?
Domain Name?
Example:
Sharkasaurus
by Spencer Estabrooks
Tremors meets Jaws! Sharkasaurus vs creationists and paleontologists; a bloody hilarious graphic novel.

---
Sponsor Mid-Roll
In a moment, I'm going to give you today's ComixLauncher, but first, we need to thank our sponsor…
Last year, ComixTribe spent nearly $85,000 on printing.
While we rely on a number of printers to get our books to market, one printer I can strongly recommend is KrakenPrint…
Our friends Jacob Way and Sam Amborn at Kraken Print offer:
Competitive pricing.
Great customer service, especially for your first offset print run.
Monthly storage if you do not want to store hundreds or thousands of books at home.
Distribution options, including breaking down orders and shipping direct to Diamond or comic stores at their specially negotiated discounted rates on shipping.
And NOW they even offer Kickstarter fulfillment!
Kraken will pick, pack, and ship out orders for your backers.
If you want to unleash the Kraken, go to comixlaunch.com/kraken, mention the ComixLaunch podcast, and they're going to knock 5% off your first print run…and they're going to hook us up with a 5% credit.
It's a classic win/win/win/win – You get a great price on printing, your backers get a beautiful offset printed book, you help the podcast out, and Kraken gets your business.
That's comixlaunch.com/kraken for 5% off your entire first print run.
---
ComixLauncher
It's time for today's ComixLauncher.
A ComixLauncher is a short, actionable activity you can do immediately after listening to the show. They're all activities I've done myself, and will get you one step closer to a successful ComixLaunch. They'll transform this Podcast from a passive, lean back activity centered around Tyler James, into an active, lean-forward activity centered around YOU and your projects.
ComixLauncher 052
Take a Title for a Project You're working on… how does it do on the Million Dollar Title Checklist?
Does it have at least 3 out of 5 elements?
If not… do you still think it's a million dollar title?
Why So Important
Invite to share results @ comixlaunch.com/voicemail or in an email [email protected]
---
Wrap Up
Show Summary / Final Lessons
Ironic
Says what it is
Short
Memorable
Passes the Internet Test
One more…
Does your title evoke something bigger than you and the book itself.
Bitch Planet
Black
C is for Cthulhu
Quote
"You can cling to a bad idea, you can re-pitch it six different ways or go get a bigger hammer in hopes of pounding it into place, but sooner or later it's clear you either have to rethink it, or let it go."
-Blake Snyder
We're going to go even deeper into both mindset, strategies and tactics for making KS work for you.
Thank you so much for listening, and for letting me walk with you, as you taken another step forward toward your next successful ComixLaunch.
---
Have You Subscribed, Rated, or Reviewed ComixLaunch Yet?
If you've enjoyed this Session of ComixLaunch, I need you to do me a favor… actually, I need three favors. Please Subscribe, Rate and Review ComixLaunch on iTunes.
They're the rocket fuel this show is running on, and the sooner you do it, the more powerful your action will be. Don't wait to give us some love!
>>> CLICK HERE TO LEAVE A REVIEW ON iTUNES <<<
Provide a rating, 1-5 stars and leave an honest review.
This can be done in less than 2 minutes and could make HUGE difference to the show.
Podcast: Play in new window | Download | Embed
Subscribe: Apple Podcasts | RSS