April is Audience Building month at ComixLaunch and this session sets the stage. If you're ready to build a large audience to launch incredible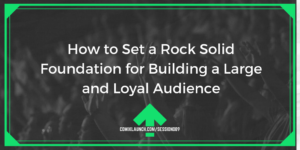 projects to on Kickstarter and beyond, you need to put a solid foundation in place. Tyler gives you that foundation piece by piece in this podcast.
---
Highlights of this Session Include:
The necessary elements for building a large and loyal audience.
Two questions you need to answer before you'll attract an audience.
Why less may be more when it comes to actively building your tribe.
One pillar you absolutely need to have in place to engage with your fan base (that 90% of aspiring creators are missing.)
Plus: A bonus writing strategy that will help readers connect with your main character in just a few pages.
Links Mentioned
ComixLaunch.com/Listlaunch
ComixLaunch.com/patreon
Ready For Launch Workshop – ComixLaunch.com/READY
---
Today's Session is brought to you by
Club ComixLaunch on Patreon.
Get your free Club ComixLaunch VIP Insider bonus Kickstarter resource atComixLaunch.com/club.
---
ComixLauncher
It's time for today's ComixLauncher.
A ComixLauncher is a short, actionable activity you can do immediately after listening to the show. They're all activities I've done myself, and will get you one step closer to a successful ComixLaunch. They'll transform this Podcast from a passive, lean back activity centered around Tyler James, into an active, lean-forward activity centered around YOU and your projects.
ComixLauncher [089]
Where are you going to show up week in and week out?
Home?
Work?
Play?
Share results @ comixlaunch.com/voicemail or in an email [email protected]
---
Quote
"All the world's a stage"
– Shakespeare
---
Have You Subscribed, Rated, or Reviewed ComixLaunch Yet?
If you've enjoyed this Session of ComixLaunch, I need you to do me a favor… actually, I need three favors. Please Subscribe, Rate and Review ComixLaunch on iTunes.
They're the rocket fuel this show is running on, and the sooner you do it, the more powerful your action will be. Don't wait to give us some love!
>>> CLICK HERE TO LEAVE A REVIEW ON iTUNES <<<
Provide a rating, 1-5 stars and leave an honest review.
This can be done in less than 2 minutes and could make HUGE difference to the show.
Podcast: Play in new window | Download | Embed
Subscribe: Apple Podcasts | RSS