Interested in growing and connecting with a large audience on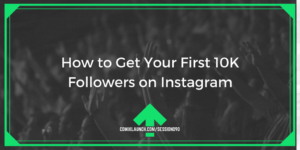 Instagram? Then this session of the ComixLaunch podcast is your blueprint, as Russell Nohelty of Wannabe Press shares his strategies for growing a following of 10,000+ on Instagram in under two years.
---
Highlights of this Session Include:
What is Instagram and why it's worth using for writers, artists, and self-publishers?
How to get started with Instagram and grow your following with the right kind of people fast.
Apps for better Instagram images.
Platform Showdown – Instagram Live vs Kickstarter Live
Plus: How Instagram can impact a Kickstarter campaign.
---
Today's Session is brought to you by
StickerMule custom stickers and more. Go to ComixLaunch.com/stickermule and get a $10 credit on your next order.
---
Guiding Discussion Questions
1) What is Instagram? How does it work? What's it for What's it Not for?
2) How do you use Instagram as a creator and publisher?
3) What specific benefits or results have you seen from using Instagram?
4) What are the biggest mistakes creators (writers, artists, self-publishers) make on Instagram?
5) How should a creator use Instagram in the ramp up to and actual execution of a Kickstarter campaign?
6) If you were coaching a creator who was starting from scratch, just downloading the Instagram app today, and who wants to get to 10K followers in, say, 12 months… what's would that process look like?
---
ComixLauncher
It's time for today's ComixLauncher.
A ComixLauncher is a short, actionable activity you can do immediately after listening to the show. They're all activities I've done myself, and will get you one step closer to a successful ComixLaunch. They'll transform this Podcast from a passive, lean back activity centered around Tyler James, into an active, lean-forward activity centered around YOU and your projects.
ComixLauncher [090]
Double Your Hashtags on All your Instagram Posts for a Week.
Share results @ comixlaunch.com/voicemail or in an email [email protected]
---
Have You Subscribed, Rated, or Reviewed ComixLaunch Yet?
If you've enjoyed this Session of ComixLaunch, I need you to do me a favor… actually, I need three favors. Please Subscribe, Rate and Review ComixLaunch on iTunes.
They're the rocket fuel this show is running on, and the sooner you do it, the more powerful your action will be. Don't wait to give us some love!
>>> CLICK HERE TO LEAVE A REVIEW ON iTUNES <<<
Provide a rating, 1-5 stars and leave an honest review.
This can be done in less than 2 minutes and could make HUGE difference to the show.
Podcast: Play in new window | Download | Embed
Subscribe: Apple Podcasts | RSS