Comics Lawyer and Comics Start-up 101 author Dirk Vanover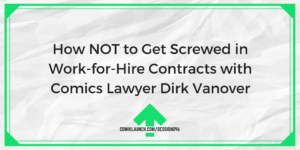 returns to the ComixLaunch podcast to share what independent creators need to know about work-for-hire contracts and collaborator agreements.
---
Highlights of this Session Include:
What to do when a client won't pay you?
How to craft better contracts?
Key things you should think about before crafting an agreement with your collaborators.
Plus: An invitation to join THE COMIXLAUNCH COURSE – Summer Session. Find out more and enroll at ComixLaunch.com/course
---
Today's episode is sponsored by Never-Ending Battle, a superhero audio drama by Playwrights Haven on Kickstarter. Check it out at comixlaunch.com/NEB
This Show's Sponsor
Never-Ending Battle is an audio drama about two former sidekicks and takes place in a world where most of the greatest heroes and villains died in battle years ago.
The series will be five Twenty minute episodes and will be released on iTunes for free.
The Playwrights Haven team have already finished the first episode, but they need your help to create the rest of the series.
If you like comic books, supporting fellow creators, or listening to audio dramas, check out the Never-Ending Battle campaign on Kickstarter.
Just go to ComixLaunch.com/NEB
By pledging just $19, you'll get a digital copy of the music created for the series, an eBook about the history and making of the show, and your name will be listed in the description of an episode on iTunes.
Higher rewards also include posters, t-shirts, and a chance to have your name appear within an episode.
Follow them on twitter @playwrighthaven and don't forget to check out the Never-Ending Battle on Kickstarter at ComixLaunch.com/NEB. Tell them Comixlaunch sent you.
---
Links mentioned in today's episode:
ComixLaunch 5-Day Kickstarter Challenge — ComixLaunch.com/springchallenge
New Workshop: The 15-Minute Kickstarter Plane — ComixLaunch.com/15minuteworkshop
Enroll in The ComixLaunch Course — ComixLaunch.com/course
---
ComixLauncher [096]
Go Checkout Dirk's Book on Amazon —
Comics Startup 101: Key Legal and Business Issues for Comic Book Creators
Podcast: Play in new window | Download | Embed
Subscribe: Apple Podcasts | RSS