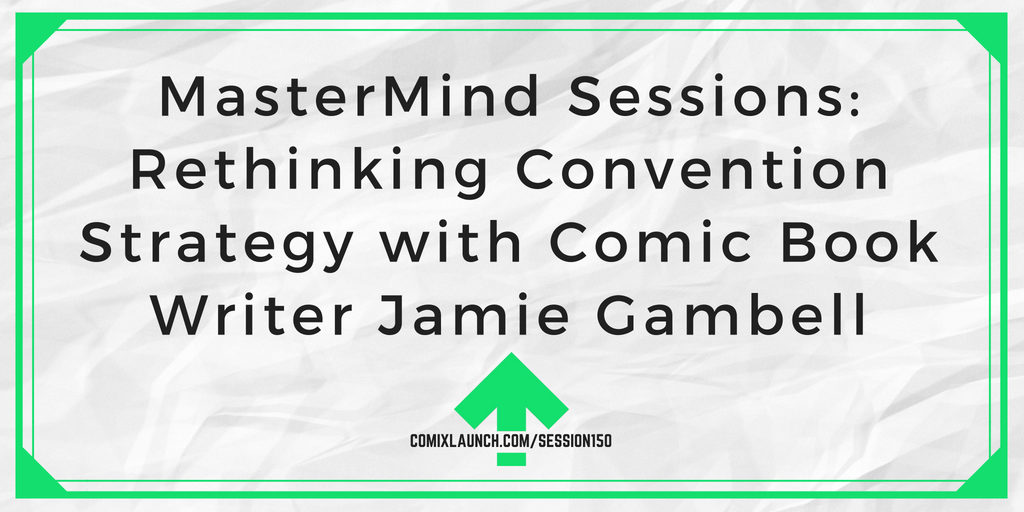 ComixLaunch celebrates its 150th episode with an all-new format. Welcome to the MasterMind Sessions, featuring creators Jamie Gambell, Dan Ekis, Will Allred & Geoff Weber, tackling real issues in a creator roundtable mastermind discussion. In today's session, the group helps Jamie Gambell rethink his convention strategy for more fun and profit at his next convention.
---
Highlights of this Session Include:
Convention Pricing strategies
Table set up to maximize interest and return on investment
Honing in on Profitability at cons
Plus: A bonus mini-lesson from Kevin Joseph about the unexpected power of telling that story that won't go away.
---
This Session is Sponsored by

---
Want to Join a Comic Creator MasterMind Group This Summer?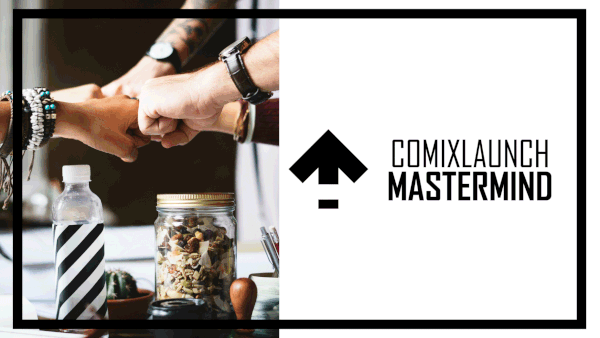 New groups are forming this month.
Go to ComixLaunch.com/mastermind to find out more!
---
Today's Featured Guests
Jamie Gambell is profession Production sound engineer for film & tv by day, and a comic book writer by night. His self-published work includes Omnitarium, The Hero Code & Department O. Jamie is also the host of the Who I Am Podcast, a fortnightly interview show which DISCUSSES WHAT INSPIRES, MOTIVATES, AND DRIVES the creator's Jamie interviews.
Dan Ekis is a freelance illustrator and graphic novelist. He recently funded his his first creator owned title, Soul of the World, which he writes and draws, on Kickstarter. Dan runs the Kid Millionaire Clubhouse Facebook group, and interviews artists and creatives on his YouTube channel. Dan also contributed a Guest Lesson on ComixLaunch 134 – How to Get Your First (or Next) 1,000 Fans Who Will Actually Buy Your Comic
Geoff Weber is an artist, magician, inventor, teacher, husband, and father of 4 boys.
He's created art for gaming books by Skirmisher Publishing and for the multi-issue comic anthology series, Strange Tales from Spooktown.
A number of his original magic tricks have been published as dvds and booklets.
And he recently funded The Scientists on Kickstarter, his first graphic novel, inspired by his love of 80s sci-fi/adventure.
Will Allred is a writer, professor, and technologist.
He created and wrote Diary of Night for BloodFire Studios which recently funded on Kickstarter, contributed to the Eisner-nominated "Comics through Time" book on comic history, and multiple other academic books on comics, and is writing a second novel.
Will received his Ph.D. in English from the University of Arkansas and is a longtime member of the nonprofit Grand Comics Database Project, having served for several years on its Board of Directors.
Will is also a member of the ComixLaunch MasterMind, and I've been meeting with will monthly.
---
Links Mentioned in this Episode
ComixLaunch MasterMind is re-opening for enrollment this month!
ComixLaunch.com/mastermind
Get on the Interest List
Sign-up for the LIVE info session.
ComixLaunch.com/session125 What is a Mastermind and Why Joining One Might Be the Key to Your Breakout Year
whoiampodcast.com
https://www.whoiampodcast.com/blog/2018/5/22/who-i-am-037-tyler-james
---
More About Our Sponsor
Are you thinking about starting or upgrading your online shop so you can sell more of your art?
Are you tired wasting time and energy hacking together cheap, limited solutions that aren't serving you or your potential customers very well?
Instead of spinning your wheels only looking at free or dirt-cheap store options, why not grab an affordable full-service online sales platform optimized for sales like Shopify?
With Shopify…
You don't need Design skills. Shopify has dozens of beautiful, fully-customizable, mobile-friendly templates to get a perfectly branded look and an online stop you'll be proud of.
You don't Coding skills. With Shopify, setting up your store is simple, and you'll be selling in no time at all, even if technology hates you.
And you don't even need a Credit Card to get started. With this ComixLaunch offer, you can try Shopify free for 14 days. No risk, and no credit card required.
What you get with Shopify is a…
Fully customizable website, online store, and blog… your store can be your website!
Unlimited products!
Smooth integration to sell on channels like Facebook, Amazon and Pinterest.
24-7 Customer support!
More than 500,000 creative businesses are powered by Shopify, including the CisforCthulhu.com store which I manage… and couldn't be happier with it.
Stop messing around with subpar online shop solutions and try Shopify.
To start your 14-day free trial of Shopify, go to ComixLaunch.com/shopify
---
ComixLauncher [150]
Who are the 5 people in your life you're most likely to go to if you have a challenge in your creative business?
On a scale of 1 to 10, how confident are you that you could get the counsel, support, and guidance you need for every challenge you face from that group of 5.
If you're less than a 9, you might want to consider joining a mastermind.
Podcast: Play in new window | Download | Embed
Subscribe: Apple Podcasts | RSS