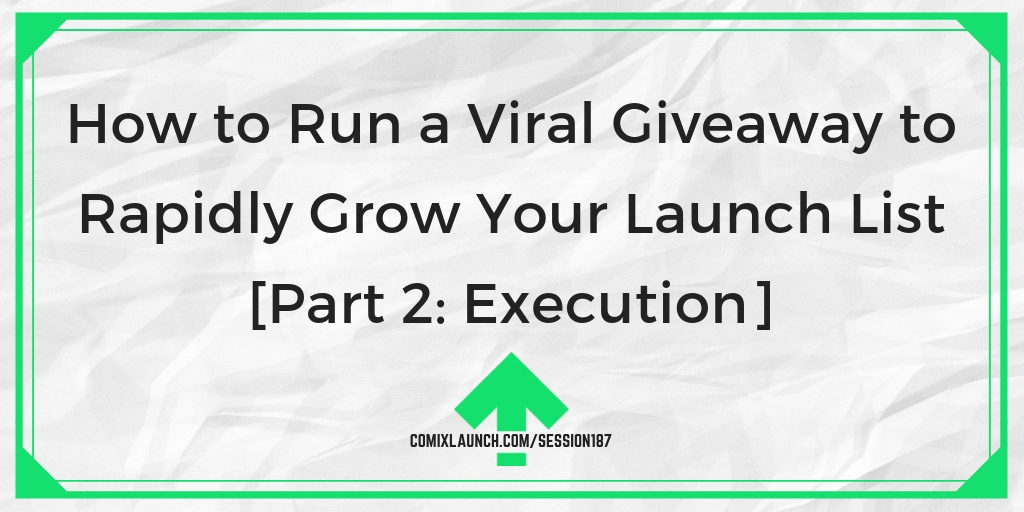 Let's say you've got a great idea for a giveaway to grow your email list and you've set everything up… what do you do now? How do you get people to enter your giveaway, and what can you do after they climb on board your list to warm them up to a future Kickstarter launch? All that and much more is covered in Part 2 of this Viral Giveway training episode!
---
Highlights of this Session Include:
9 Places to promote your viral giveaway to get the right people to enter
Facebook ad strategies to get in front of thousands at a low cost
How to craft an engagement sequence to quickly warm up cold subscribers who enter your contest
Tips for delivering your grand prize and how NOT to pay to ship it!
Plus: Kickstarter is changing it's approach to email notifications.
This Session is Sponsored by FB ADs Demystified!
How Writers & Artists Can Profitably Use Facebook Ads to GenerateSubscribers, Backers & Sales on Autopilot (Even on a Tiny Budget!) Sign-up for this FREE ComixLaunch Workshop at ComixLaunch.com/fbads
Links Mentioned in Today's Show:
ComixLaunch.com/fbads
ComixLaunch.com/unlock
Kingsumo.com
More About Our Sponsor:
Are you in need of more readers, subscribers, Kickstarter backers and customers for your books and art?
Have you ever wondered if Facebook ads actually work for writers & artists?
Have you tried FB ads, but been frustrated that all you seem to be paying for is "likes" and "engagement" but not getting much in the way of actual subscribers, backers & sales?
Then my new FB ADS DEMYSTIFIED! Workshop is for you!
Register for Free –> ComixLaunch.com/fbads
In this online training, I'm going to teach you how to steadily and predictably build your audience, grow your email list, drive people to your Kickstarter campaigns and other online promotions, and generate more backers and sales WITHOUT spending all of YOUR time marketing.
In this free workshop, I'll answer the most common questions creators ask me all the time about Facebook ads, including:
✔ Do Facebook Ads actually work for writers & artists?
✔ How do I get my ads to convert instead of just getting "likes" (meh!) and "engagement" (ugh!)?
✔ How do YOU use Facebook ads and get real results with them for your creative projects?
This is the training I wish existed 5 years ago when I first started dabbling into FB Ads, as it would have cleared up a whole lot of fear and confusion… (and would've made me a lot more sales!)
I don't know anyone else in our space who is teaching this stuff specifically for comic creators, publishers, writers & artists, so I'm excited to demystify FB ads for my tribe!
See the available times and register for the next FREE training today at ComixLaunch.com/fbads
I'l see you at the FB Ads Demystified workshop and can't wait to see what you launch next!
ComixLauncher [187]
Generate 3 unique ideas for viral giveaways you could do for your creative business.
Podcast: Play in new window | Download | Embed
Subscribe: Apple Podcasts | RSS