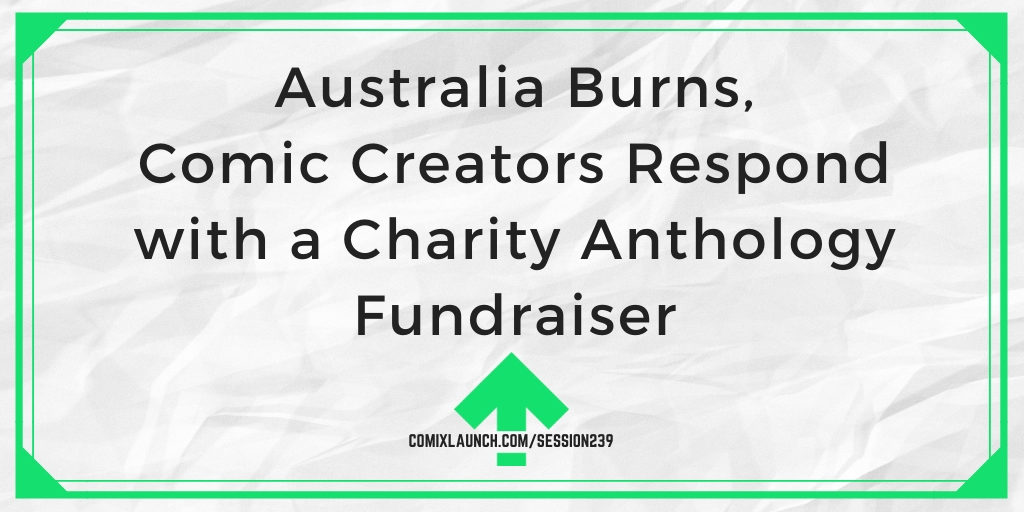 A group of comic creators have joined forces to create an anthology book of art and short stories, titled 'Australia Burns: Tales of Devastation and Courage Under Fire' with all proceeds to be donated to the firefighters who are still out there right now, and the families who have lost everything in the 2019–20 Australian bushfire season. In this session, Tyler talks to a supergroup of creators including Tim Stiles, Clay Adams, Shaun Keenan and Shane Walsh-Smith about the devastating situation on the ground in Australia and how this charity anthology was pulled together in record time to respond.
---
Highlights of This Session Include:
How the situation in Australia is affecting creators in our ComixLaunch community?
How Big Tim was able to rally the troops for this anthology projects and figure things out on the go.
Surprising results from a crowdfunding launch NOT run on any crowdfunding page.
Plus: How YOU can help the situation in Australia.
---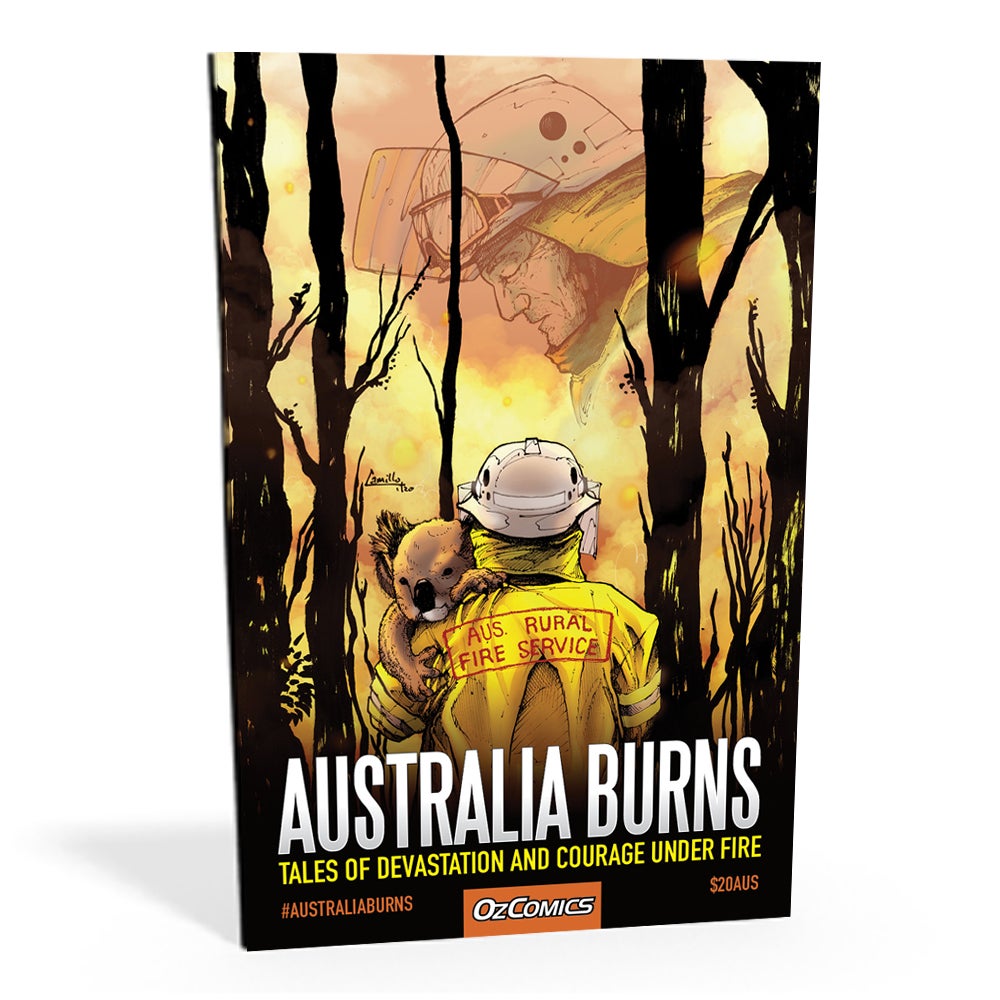 This Session is Sponsored by:
Comic Impressions, a US based comic and graphic novel printer specializing in BOTH small digital AND large offset print runs. Go to ComicImpressions.com to to submit a quote or request a FREE printing sample and when you mention ComixLaunch you'll get 5% off your next order!
---
Today's Featured Guests:
Big Tim Stiles is a writer, podcaster, and award winning actor who has worked in the creative arts for over two decades. After four years of writing comic book reviews he dove into writing comics. Big Tim's struggles with depression and chronic pain have informed and fueled his series GORILLA MY DREAMS.
www.bigtimsfunnybooks.bigcartel.com
Shane W Smith is an award-winning Australian graphic novelist and screenwriter working across a broad spectrum of genre fiction. He has a Bachelor degree in Creative Writing, and might be the only person in the world to get a comic published in a refereed academic journal. Shane lives in Australia with his wife and four young children.
Key links:
http://shanewsmith.com
https://www.facebook.com/ShaneWSmith.Author/
Shaun Keenan (Paulet) is an entrepreneur and business owner of COMICS2MOVIES the highly successful Australian comic book publishing house. He has created Australia's #1 independent comic book series the Xtreme Champion Tournament with over 5500 copies sold and is also the co-creator of the awesome Sci-Fi series Terralympus which was awarded a government grant in 2018.
He also publishes other successful creators graphic novels like Spartacus actor, Barry Duffield's, Deadman's Land.
He is a keen traveler and a mad Australian Rules Football fan and loves watching all types of movies and TV shows.

https://www.comics2movies.com.au/
Clay Adams is best known as a voice actor, with lead roles on TEENAGE MUTANT NINJA TURTLES: FAST FORWARD and several seasons of YU-GI-OH (GX, 5Ds and ARC-V). His directorial debut, THE BOY SCOUT, was nominated for Best Short at the Golden Egg Film Festival in Los Angeles, and his feature script, THE ECLIPSE, placed second in the horror category of the FADEIn Awards. He has written and directed for television and holds a BFA in Dramatic Writing from NYU. Read his work for free at friedcomics.com/free
---
Links Mentioned in Today's Show:
Pre-order the Australia Burns Anthology here –> ComixLaunch.com/ab
Want offset and digital printing in the US –> ComicImpressions.com
Here's the Facebook Group for Creators Interested in Contributing –> https://www.facebook.com/groups/598877357544408/
---
More About Our Sponsor:
Hey, have you heard of Comic Impressions yet?
I'm really excited about this comic and graphic novel printer that can service comic orders big and small, digital and off-set.
And because they're located in the United States, they can get most of my listeners their books fast!
While new to comic scene, this printing company has been in the business of expertly putting ink on paper for over 30 years.
Comic Impressions is already printing books for successful Kickstarter creators and direct market publishers like Scout Comics, and they recently knocked the first printing project I sent sent their way for ComixTribe out of the park!
Comic Impressions is one of the few comic printers using the HP Indigo 12000 Digital Press which lets them digitally print comics that nearly indistinguishable from offset print runs at affordable prices, even for smaller runs.
Seriously, I'm a big print quality snob and these are some of the best digitally printed books I've ever flipped through.
But don't take my word for it… what I want you to do is go right now and request a COMPLIMENTARY sample pack from ComicImpressions Team at ComicImpressions.com.
I asked Rich Boye at Comic Impressionsto put together a bunch of FREE sample packs for ComixLaunch listeners showcasing both their digital and offset printing capabilities and ship them at no charge to creators who ask for them… and he said no problem.
I know you're going to be impressed.
And while you're at it, if submit a quote for your next printing project and I think you're going to find there pricing extremely competitive as well.
Plus, if you mention ComixLaunch and you'll get an additional 5% off your next order!
Head over to ComicImpressions.com today.

---
ComixLauncher [239]
Pre-order or share the Australia Burns Anothlogy Fundraiser project which you can find at ComixLaunch.com/ab
Podcast: Play in new window | Download | Embed
Subscribe: Apple Podcasts | RSS