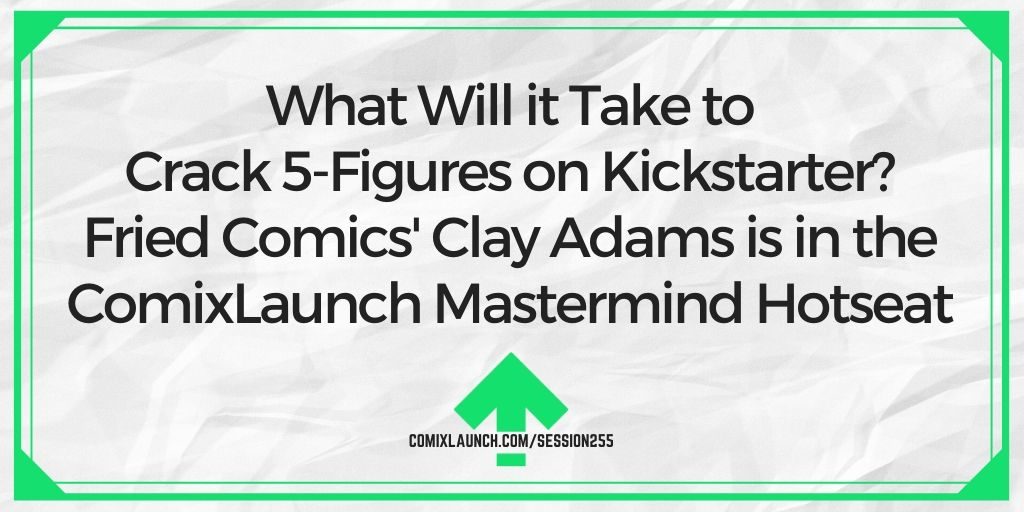 For the first time ever, listen in on clips from the ComixLaunch Mastermind sessions this year that help lead to Clay Adams of Fried Comics most successful Kickstarter launch ever… for a project that he had been sitting on for years!
---
Highlights of This Session Include:
Why minor criticisms should not be a reason to NOT launch your projects or lose passion for them.
How best to breathe life into an older project on Kickstarter
How to quickly ramp your audience up for a new Kickstarter project that they didn't know was coming.
Plus: Clay's extraordinary results from his latest launch and insight as a creator who has committed himself to leveling up.
---
This Session is Sponsored by…
…the ComixLaunch MasterMind. Fighting isolation and staying connected with others is more important than ever right now…
If you would you like to meet once a month with a group of serious, like-minded creators to talk about your projects and creative business for mutual support and accountability this year, go to ComixLaunch.com/mastermind and get on the interest list.
New groups will be forming in June and start meeting in July!
---
In the Mastermind Hotseat Today:
Clay Adams, co-fry cook in chief at Fried Comics, a professional writer and actor.
---
In the Mastermind Round Table:
Will Allred – Comic Book Writer, Diary of Night
Brant Fowler – Comic Writer & Publisher, Graphic Designer & Letterer, Last Ember Press
Nigel Twumasi – British manga publisher & writer, Mayamada​
Bill Coulombe – Comic book writer (Kinetic), publisher, Y Comics
Tyler Chin-Tanner – Comic Book Publisher (A Wave Blue World), writer & anthology editor, All We Ever Wanted, Deadbeats
---
Links Mentioned in Today's Episode:
Get on the ComixLaunch Mastermind Interest List comixlaunch.com/mastermind
DEADSKINS! 1-2. A horror comedy western for mature readers
https://www.kickstarter.com/projects/900595556/deadskins-1-2-a-horror-comedy-western-for-mature-readers
---
More About Our Sponsor:
If you're listening to this and the idea of meeting regularly with a small, focused group of like-minded creators to share resources, sharpen and strengthen your creative business strategies and to support each other in mutually benefical ways, sounds good to you… stop whatever it is you're doing now and get over to ComixLaunch.com/mastermind to get on our interest list.
I've been running these mastermind groups for over a year now, and I've seen how powerful they can be for the right creators.
Everybody has blindspots.
We ALL have things in our creative lives we can't see from the inside.
We all struggle with self doubt and paralysis, and we are all prone to getting stuck.
Albert Einstein said "we can't solve problems by using the same kind of thinking we used when we created them."
If you're ready to get new perspectives and solutions on your challenges from creators who have overcome them, a mastermind can provide that.
The right mastermind will support you, not let you fail, and push you to new heights.
Now, I realize many of you have gotten to this point largely on your own and may even be proud of that.
(And you should be!)
But at a certain point, what got you here, won't get you there.
Your network may be your single greatest asset, and being a part of a dedicated mastermind group will quickly become the most invaluable part of your network.
Joining a MasterMInd may be just what you're looking for IF…
…if you're overwhelmed by all of the possible projects you could do and need CLARITY on what you should be doing to actually achieve your creative goals.
…you're looking to create your biggest launch ever and have a breakthrough year.
…you feel like strategy, coaching, community and support are currently missing in your creative life and business.
…you're ready to grow your network of quality peers to include serious creators with whom you can talk strategy, growth, and taking your creative business to the next level.
If that sounds like you, go over to ComixLaunch.com/mastermind today, and I can't wait to start working with you!
---
ComixLauncher [255]:
What projects are you sitting on that you could breathe new life into with a launch?
---
How to Find Out More About Today's Hot Seat Creator:
Podcast: Play in new window | Download | Embed
Subscribe: Apple Podcasts | RSS