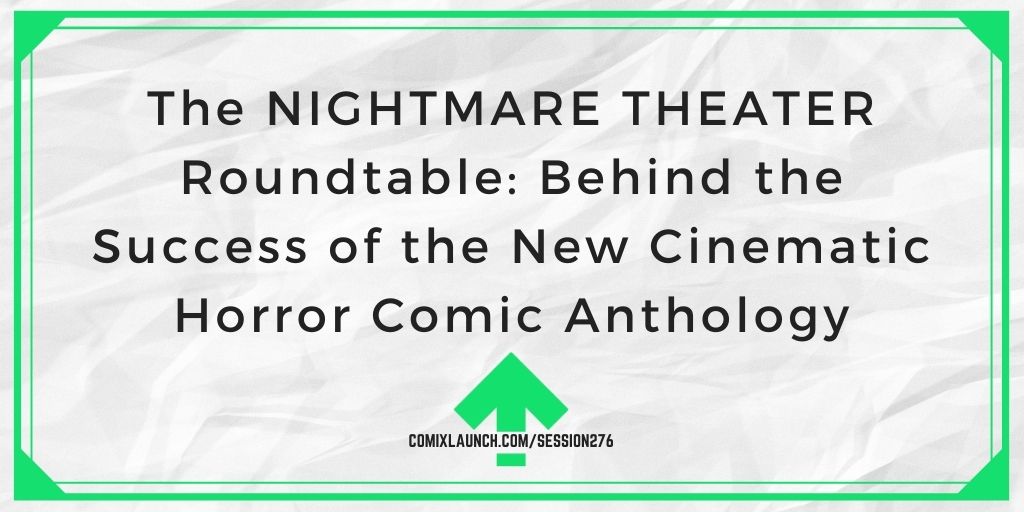 Come hang out for the NIGHTMARE THEATER Roundtable as we take a look inside the success of this new cinematic horror comic anthology! Tyler James is joined by creators David Schrader, Clay Adams, David Pepose, James Powell, Jessica Maison Judd, Newton Lilavois & Terry Mayo for a lively discussion about the 225+ page book starring demons, Lovecraftian monsters, psycho killers and more that's perfect for the Halloween season!
---
Highlights of This Session Include:
The secret ingredients to making a great horror anthology! (Hint: It's People!)
Tips for organizing a massive anthology project on Kickstarter.
A long list of horror comic recommendations from the roundtable.
Plus: Comics Kickstarter Funding Sets Records in 2020
---
Today's Session is Brought to You by…
WAILING BLADE: Headtaker is Volume 1 of the Dark Sci-Fi Fantasy Series by the writer of Road of Bones and the artist of SCAM. If you're looking for a brutal, bloody sci-fi adventure then you need to take the blade and go to ComixTribe.com/wailingblade and back today!
---
Today's Featured Guests:
A round table cast of creators from the Nightmare Theater horror comics anthology live on Kickstarter:
David Schrader
Clay Adams
David Pepose
James Powell
Jessica Maison Judd
Newton Lilavois
Terry Mayo
---
Links Mentioned in Today's Show:
Wailing Blade V1: Headtaker – Dark Sci-Fi Fantasy Hardcover https://www.kickstarter.com/projects/comixtribe/wailing-blade-v1-headtaker-dark-sci-fi-fantasy-hardcover
NIGHTMARE THEATER – A Cinematic Horror Comic Anthology https://www.kickstarter.com/projects/schraderopolis/nightmare-theater-a-cinematic-comic-horror-anthology
---
More About Our Sponsor:
Wailing Blade is high-adrenaline fantasy adventure, set in the dark future of mankind. When his father is sentenced to death at the hands of the legendary Headtaker, bandit prince Tychon must find a way to save him, or fall to the Wailing Blade himself.
Basically, if you took a blender and mixed up Masters of the Universe with Mad Max, tossed in a little Conan and lots of Heavy Metal, that's what's in store for you in the pages of WAILING BLADE.
With super detailed, gorgeous art from Joe Mulvey and a razor sharp script from the writer of Road of Bones, Rich Douek, you really can't go wrong with this fully loaded collection.
BACK ON KICKSTARTER TODAY: https://www.kickstarter.com/projects/comixtribe/wailing-blade-v1-headtaker-dark-sci-fi-fantasy-hardcover
---
ComixLauncher [276]
Start making a list of creators who you'd like to have your work along side of.
Podcast: Play in new window | Download | Embed
Subscribe: Apple Podcasts | RSS