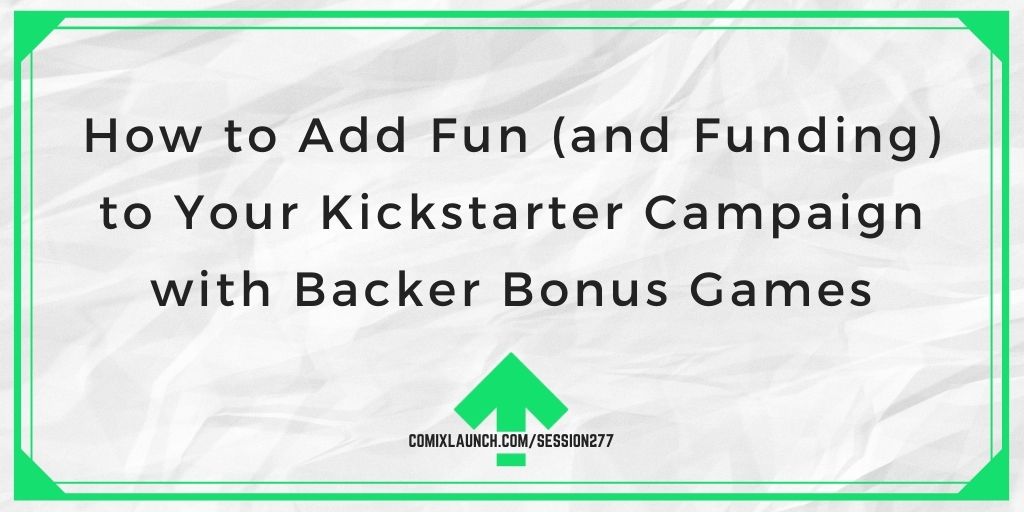 Kickstarter time is game time! In this session, Tyler shares one of his favorite campaign strategies to turn his Kickstarter launches into fun events!
---
Highlights of This Session Include:
Kickstarter doesn't allow contests or raffles as pledges… but what about games?
Why you should consider a backer bonus during your next launch?
How to execute a backer bonus game step-by-step.
Plus: Details on the Comic Creator Power-Up Pledge, a special opportunity for a few comic creators available through the WAILING BLADE Kickstarter campaign.
---
Today's Session is Brought to You by…
WAILING BLADE: Headtaker is Volume 1 of the Dark Sci-Fi Fantasy Series by the writer of Road of Bones and the artist of SCAM. If you're looking for a brutal, bloody sci-fi adventure then you need to take the blade and go to ComixTribe.com/wailingblade and back today!
---
Links Mentioned in Today's Show:
ComixTribe.com/wailingblade
wheelofnames.com
---
More About Our Sponsor:
Wailing Blade is high-adrenaline fantasy adventure, set in the dark future of mankind. When his father is sentenced to death at the hands of the legendary Headtaker, bandit prince Tychon must find a way to save him, or fall to the Wailing Blade himself.
Basically, if you took a blender and mixed up Masters of the Universe with Mad Max, tossed in a little Conan and lots of Heavy Metal, that's what's in store for you in the pages of WAILING BLADE.
With super detailed, gorgeous art from Joe Mulvey and a razor sharp script from the writer of Road of Bones, Rich Douek, you really can't go wrong with this fully loaded collection.
BACK ON KICKSTARTER TODAY: https://www.kickstarter.com/projects/comixtribe/wailing-blade-v1-headtaker-dark-sci-fi-fantasy-hardcover
---
ComixLauncher [277]
Come up with 3 ideas for backer bonus games for your next launch.
Podcast: Play in new window | Download | Embed
Subscribe: Apple Podcasts | RSS