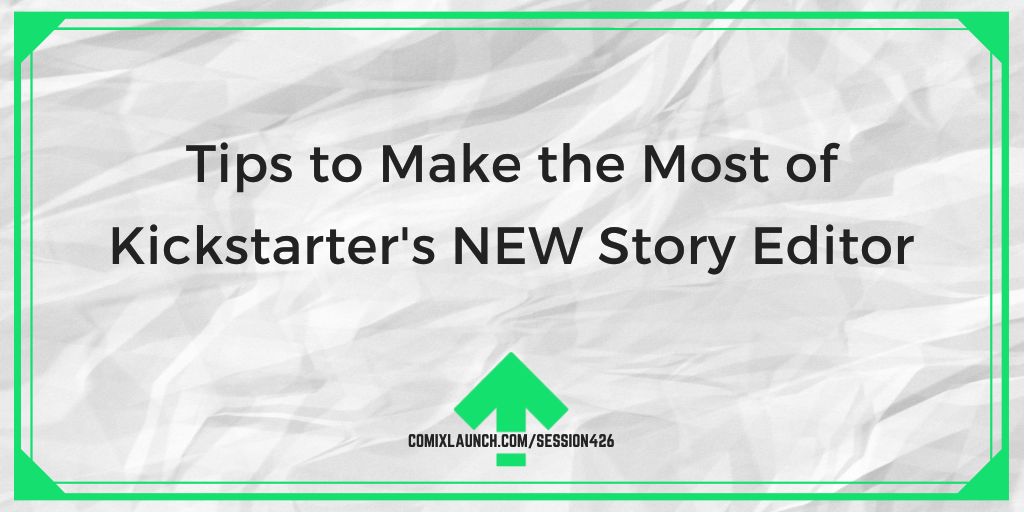 Surprise! Kickstarter just rolled out a big change to it's Project Story Editor, which will impact how you design your Kickstarter pages going forward. In this session, Tyler James will help you navigate the new editor and hook you up with some savvy tips to make the most of it.
---
Highlights of This Session Include:
What the heck is a "contextual toolbar" and how is it supposed to make page design easier?
How a new "Table of Contents" is autogenerated for every Kickstarter page?
Savvy tips for crafting headers that make it easier to navigate your Kickstarter pages.
Plus: Tyler wrote an EPIC new comic and it's live on Kickstarter!
---
Today's Session is Brought to You By…
EPIC #1-4 | The Superteen Action Comedy Returns At Last! Get the new comic written by Tyler James (hey, I know him!) on Kickstarter today at EPIC.COMIXTRIBE.COM!
---
Links Mentioned in Today's Show:
Breaking: Big Kickstarter Page UI Update (video Tyler mentioned during the show)
---
More About Our Sponsor:
Hey, ComixLaunch listeners, Tyler James here letting you know that I wrote a new comic and just launched it on Kickstarter!
It's called EPIC and if you're a fan of action-packed, hilarious superhero comics such as Spider-Man, Invincible, Teen Titans and more, I think you'll want to check out this book.
EPIC is the story of Eric Ardor, an ordinary teenager who stumbles on extraordinary powers and does what we all would do… becomes a superhero!
It's a fanboy's dream come true, but there's a catch…
He's powerless around anyone he is attracted to.
Living in Miami, home to the world's zaniest supervillains and most alluring eye-candy, Eric must somehow protect his city knowing that at any time his powers might turn off whenever he is turned on!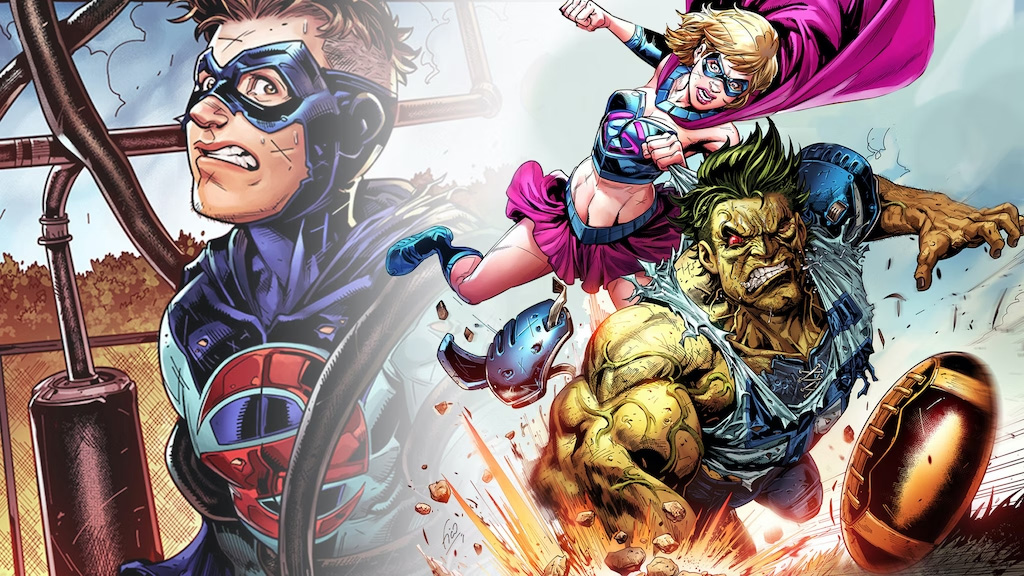 Hard to believe it, but EPIC is a concept I first pitched to artist and co-creator MATT ZOLMAN over a decade ago.
I've spoken about it on the podcast several times, how one of my biggest regrets as a creator was not realizing how effective Kickstarter could be at serializing comics. See, when we launched the first issue for EPIC on Kickstarter a decade ago, the idea was that the Kickstarter would help us get the project off the ground and then we would serialize it in the direct market… but when Diamond sales weren't there to sustain it, the project was shelved after four awesome issues.
But this month, we've just proved that Kickstarter isn't just a platform for new projects, but can be an amazing platform to resurrect older ones as well.
I'm thrilled to be working once again with MATT to pick up right where we left off and continue the EPIC series with an all new issue!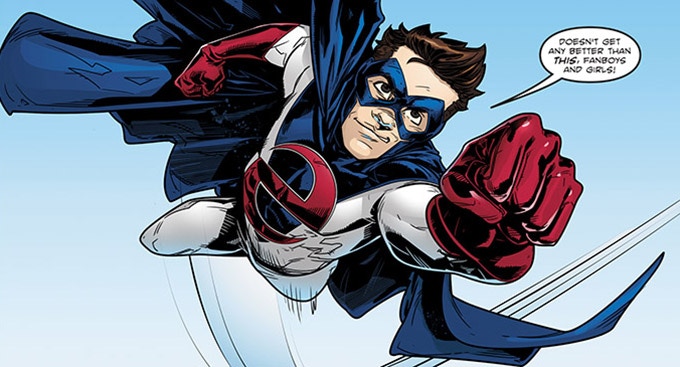 In EPIC: Superteenage Wasteland #4, A chemically-spiked batch of "supplements" has turned high school football star Mitch Anderson into Roid Rage, an eight-foot tall muscled monstrosity, causing mayhem at the South Beach High homecoming game, and interrupting Eric's first date.
Now Eric must find a way to change into Epic and stop the brute, while keeping his superhero alter ego a secret. Unbeknownst to him, new girl Shannon Swift aka Cali-Girl, has the same idea.
Will Epic or Cali-Girl be able to stop Roid Rage in time to salvage the homecoming dance?
Find out by backing EPIC on Kickstarter!
This book means a lot to me and my co-creator Matt Zolman. EPIC is an unapologetically fun comic that let's Matt and I relive all of the awkwardness of our teenage years wrapped in a superhero shell that celebrates everything we love about capes & comics.
The campaign is built for both O.G. epic fans dying to find out what happens next… AND is new reader friendly with digital and print catch-up tiers.
As hard as it is to make comics, writing EPIC has provided some of the greatest moments of BLISS to me as a creator… and I hope that comes across in the book itself.
If it sounds like something that you'd be into, please head over to EPIC.COMIXTRIBE.COM and become a supporter or search for EPIC from ComixTribe on Kickstarter.
---
ComixLauncher [426]
Go to Kickstarter and play with the new Story editor! Then report back and let me know what you think!
Podcast: Play in new window | Download | Embed
Subscribe: Apple Podcasts | RSS