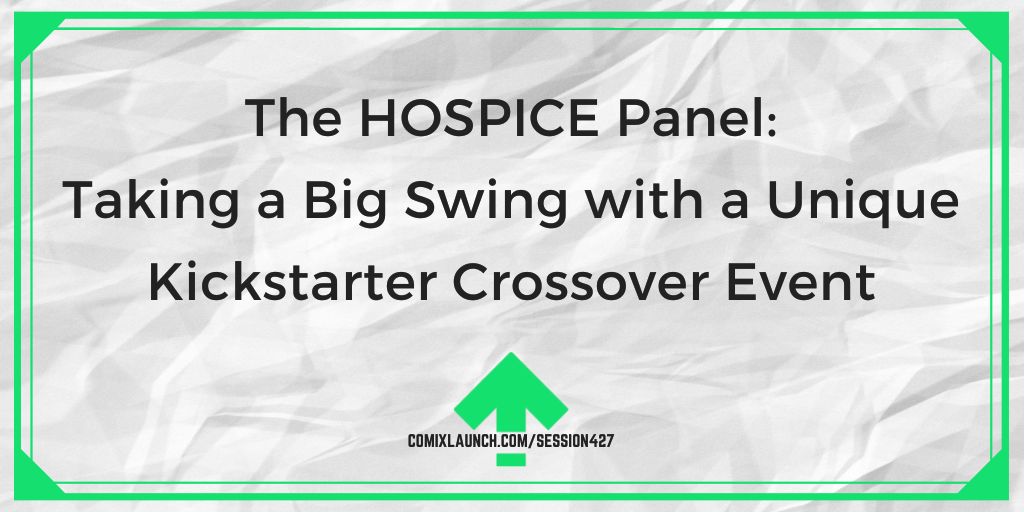 The creators of the HOSPICE shared comic book universe join Tyler James for a discussion about this unique Kickstarter experiment that sees six veteran crowdfunders all launch distinct one-shot projects with the same name! In this panel, expect great insight on campaign design, taking big swings, and shaking up the status quo in crowdfunding promotion.
---
Highlights of This Session Include:
The big differences between an anthology style project and a shared universe project and why the Hospice team chose the latter.
Setting the ground rules for how a shared universe project could work on Kickstarter and beyond.
Early reactions to the results of the Hospice experiment so far.
Plus: Each veteran creator on the Hospice panel shares one valuable Kickstarter protip!
---
Today's Session is Brought to You By…
EPIC #1-4 | The Superteen Action Comedy Returns At Last! Get the new comic written by Tyler James (hey, I know him!) on Kickstarter today at EPIC.COMIXTRIBE.COM!
---
Today's Featured Guests:
Jamie Primack – Jamie Primack is a comic artist, writer, illustrator, and self-proclaimed "space goth" best known for her dark, cosmic ink illustrations and as the creator of the sci fi comic series BINARY STAR.
Travis Gibb – Comic book writer and advocate best known for the comics GRANITE STATE PUNK, VOODOO NATIONS, AND CTHULHU INVADES!
Frank Martin – Comic writer with multiple short stories published in horror anthologies by numerous indie publications. Frank has also had comic shorts appear in the "fluff noir" anthology series Torsobear and the all-ages horror anthology Cthulhu is Hard to Spell, and is a veteran of over 20 Kickstarter campaigns.
David A. Byrne – The former Co-Publisher at Scout Comics and Entertainment and Co-CEO/owner of Brink of Reality Productions. David has an education in film and business and experience as an editor, writer, and retailer. He has spent the better part of two decades in sales and owned and operated independent publisher W.i.N. Pictures, producing the hit comic Stake and Canceled and such well-received titles as Color Me Yellow, Daisy Gets a Brother, Shady Place, and The Couch.
---
Links Mentioned in Today's Show:
All the Hospice links: https://linktr.ee/hospicecomics
---
More About Our Sponsor:
Hey, ComixLaunch listeners, Tyler James here letting you know that I wrote a new comic and just launched it on Kickstarter!
It's called EPIC and if you're a fan of action-packed, hilarious superhero comics such as Spider-Man, Invincible, Teen Titans and more, I think you'll want to check out this book.
EPIC is the story of Eric Ardor, an ordinary teenager who stumbles on extraordinary powers and does what we all would do… becomes a superhero!
It's a fanboy's dream come true, but there's a catch…
He's powerless around anyone he is attracted to.
Living in Miami, home to the world's zaniest supervillains and most alluring eye-candy, Eric must somehow protect his city knowing that at any time his powers might turn off whenever he is turned on!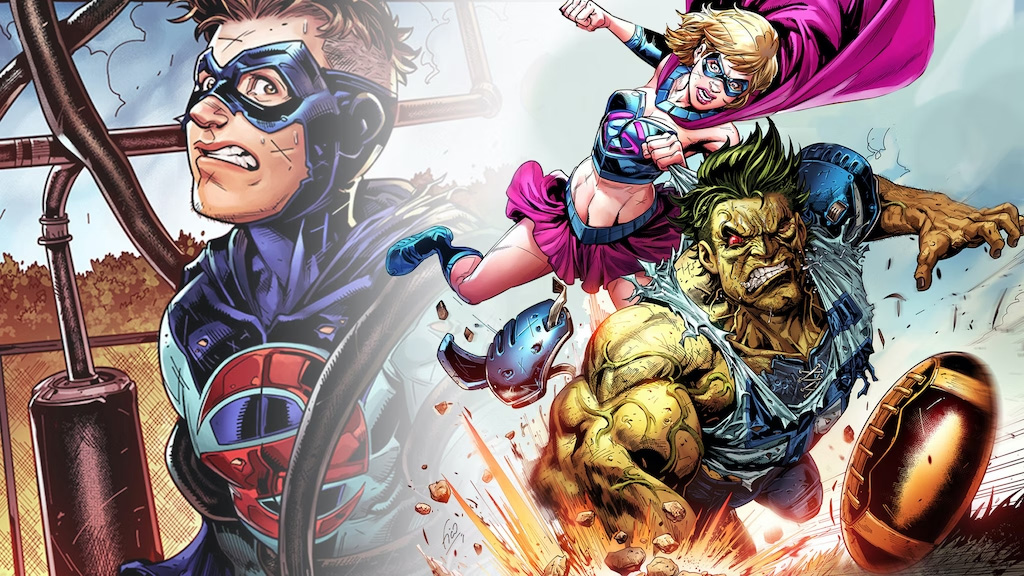 Hard to believe it, but EPIC is a concept I first pitched to artist and co-creator MATT ZOLMAN over a decade ago.
I've spoken about it on the podcast several times, how one of my biggest regrets as a creator was not realizing how effective Kickstarter could be at serializing comics. See, when we launched the first issue for EPIC on Kickstarter a decade ago, the idea was that the Kickstarter would help us get the project off the ground and then we would serialize it in the direct market… but when Diamond sales weren't there to sustain it, the project was shelved after four awesome issues.
But this month, we've just proved that Kickstarter isn't just a platform for new projects, but can be an amazing platform to resurrect older ones as well.
I'm thrilled to be working once again with MATT to pick up right where we left off and continue the EPIC series with an all new issue!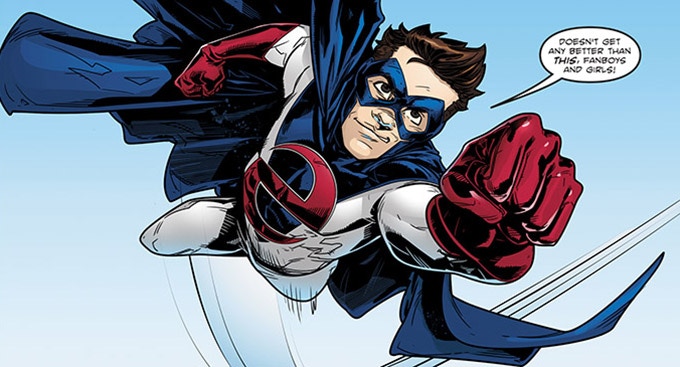 In EPIC: Superteenage Wasteland #4, A chemically-spiked batch of "supplements" has turned high school football star Mitch Anderson into Roid Rage, an eight-foot tall muscled monstrosity, causing mayhem at the South Beach High homecoming game, and interrupting Eric's first date.
Now Eric must find a way to change into Epic and stop the brute, while keeping his superhero alter ego a secret. Unbeknownst to him, new girl Shannon Swift aka Cali-Girl, has the same idea.
Will Epic or Cali-Girl be able to stop Roid Rage in time to salvage the homecoming dance?
Find out by backing EPIC on Kickstarter!
This book means a lot to me and my co-creator Matt Zolman. EPIC is an unapologetically fun comic that let's Matt and I relive all of the awkwardness of our teenage years wrapped in a superhero shell that celebrates everything we love about capes & comics.
The campaign is built for both O.G. epic fans dying to find out what happens next… AND is new reader friendly with digital and print catch-up tiers.
As hard as it is to make comics, writing EPIC has provided some of the greatest moments of BLISS to me as a creator… and I hope that comes across in the book itself.
If it sounds like something that you'd be into, please head over to EPIC.COMIXTRIBE.COM and become a supporter or search for EPIC from ComixTribe on Kickstarter.
---
ComixLauncher [427]
What ideas do YOU have for a shared universe comic book concept?
---
How to Find Out More About Our Featured Guests:
Hospice: No Freedom In Texas by Travis Gibb https://www.kickstarter.com/projects/orangecone/hospice-no-freedom-in-texas-24pg-one-shot-horror-comic
Hospice: Last Supper of the Catskill Cannibal by Frank Martin https://www.kickstarter.com/projects/frankthewriter/rising-suns-hospice
Hospice: One Damned Good Thing by Russell Nohelty https://www.kickstarter.com/projects/russellnohelty/odgt
Hospice: Bend Sinister by Jamie Primack https://www.kickstarter.com/projects/1400615665/bend-sinister-a-rising-suns-hospice-one-shot-story
HOSPICE: CONCUSSION by Michael Watson https://www.kickstarter.com/projects/chatanddraw/hospice-concussion
Hospice: Skin Deep – A Horror One Shot (NSFW) by David A Byrne https://www.kickstarter.com/projects/davidabyrne/hospice-skin-deep
Podcast: Play in new window | Download | Embed
Subscribe: Apple Podcasts | RSS