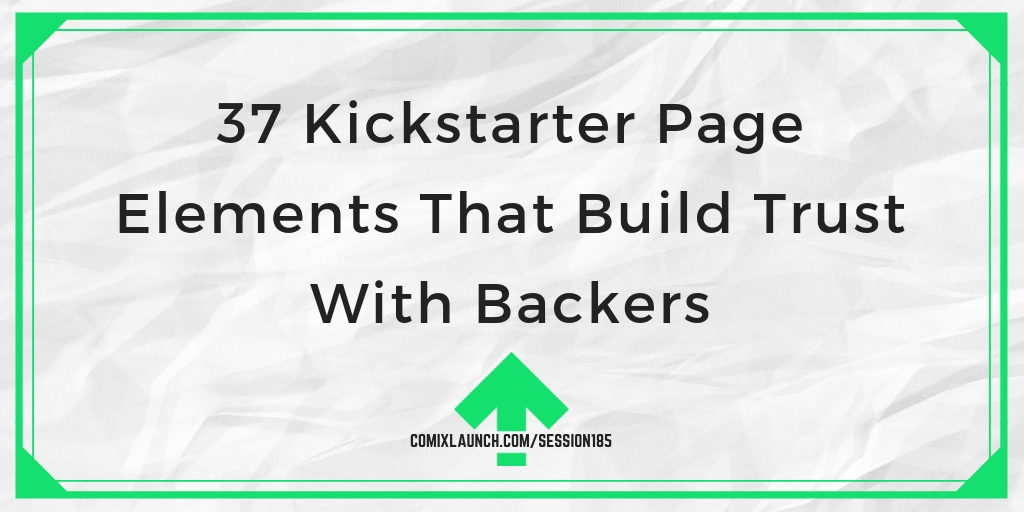 You'll want to bookmark this episode the next time you build a Kickstarter page because in it, Tyler shares 37 Kickstarter page elements that build trust with backers and lead to a successful launch! And the best part… this entire episode was generated with the help of the ComixLaunch community.
---
Highlights of This Session Include:
Seldom used but super powerful images to include on your Kickstarter page.
Why treating your "Risks & Challenges" section as an after thought is weak, and what to say that makes it clear to backers you're legit.
A dozen subtle social proof elements that lead backers to be confident in trusting you with their hard earned money.
Plus: Some stats on comics Kickstarter's record-breaking 2018!
---
This Session's Featured Resource is Bluehost.
Go to ComixLaunch.com/bluehost for a special discount on domain registration and website hosting.
---
The 37 Kickstarter Page Elements:
Pro Endorsements
Critic Review Comments
Critic quotes on a gif
Links to Positive Advanced Reviews
Published proven track record of creators
Pictures of the entire creative team we can see who created this (not anonymous)
Bringing on a professional colorist, and professional letterer, and listing their credentials
Major Company Logos – Claiming a "world class creative team" followed by well known logos of places the team members have worked
Listing previous Kickstarter successes
The comic is already 100% complete and ready to print
BUDGET PIE CHART!
Example finished artwork on the page
Extended Preview – Digital Ashcan available
Shared project timeline
Includes CONTINGENCY in the timeline
Shared specific details of packaging –
Assurance that the fulfillment is being handled in house.
Qualifying the need to tell THIS story
Projects we love endorsement status from Kickstarter
the goal. Doesn't feel like an overreach
"Who Will Love" section means they know their audience.
Taking the "Risks and Challenges" section seriously
An introduction video of the Project.
In the video, both writer and artist address the backer.
The out take is humanizing Joe Mulvey.
Professional looking rewards mocked up
Reward tier structure WITH the images of the products gives a professional look.
Kickstarter-endorsed, part 2: the project was selected for the "Make 100" designation
All or nothing funding: this project will only get funded if it reaches its goals, so backers don't have to fear creators taking their money and running
The main reasons for the Kickstarter. A backstory of why the Project is being created in the first place.
Updates on the project itself. (Updated constantly.)
Creators holding Wailing Blade sword in their photos.
Close-up of different covers, definitely not hiding anything there.
Future plans for conventions and in-store signings
photos w/ fans at conventions lends legitimacy
Declaration of how many stretch goals have already been met.
Free US Shipping so the price is up front
---
Links Mentioned in Today's Show
---
More About Our Featured Resource
In a moment, I'm going to give you today's ComixLauncher, but first, we need to thank our sponsor…
Let me ask you a question… are you master of your own domain?
No, this isn't a dated Seinfeld reference… I'm talking about your web domain.
And Bluehost is an all in one web hosting solution that will help you master your domain.
I own the domains for ComixTribe.com, ComixLaunch.com and many more… but I know many of you are trying to save a few pennies a day by NOT paying for domains you're trying to build brands around.
That's a mistake.
Owning your own domain provides better branding
More professional.
More credible.
More memorable.
When you own the dot com for your brand, it'll help you protect it.
If you're building your empire on someone else land, your comic @facebook or @tumblr or remember @myspace God forbid… you don't control those platforms.
Own your own domain…
You can use the ComixLaunch affiliate link to get a special introductory offer and 30-day money back guarantee at Bluehost by going to Comixlaunch.com/bluehost today.
Bluehost powers more than 2 million websites world wide and makes it super simple to get a WordPress hosted website up in just one click.
Master Your Domain, go to ComixLaunch.com/bluehost and lock it in today.
---
ComixLauncher [185]
Log into Kickstarter. Start a new project or if you're working on a project now, go ahead and open it. Open the STORY section of your Kickstarter page. Type in 5 ideas you got for things to include in your page from this episode.
---
Quote
"What's amazing about these projects is that they don't need mass appeal to be successful or make an impact in the creator's community, independent creators can make something unconventional and niche with 100 backers or less… That kind of intimate and direct connection between creator and backer is way more meaningful than followers or likes." – Camila Zhang (Kickstarter Comics Outreach Lead)
Podcast: Play in new window | Download | Embed
Subscribe: Apple Podcasts | RSS