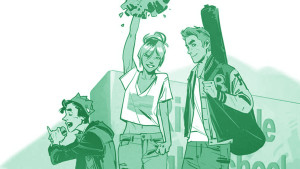 Last session, we detailed all the things that went wrong with the Archie Comics Kickstarter, and the major lessons creators should take from that failed launch. In this session, Tyler James and co-host Jeremy Melloul, rebuild the Riverdale relaunch Kickstarter from the ground up, and discuss ideas for crafting a more successful launch.
---
Today's Session is Sponsored by KrakenPrint. Visit comixlaunch.com/kraken and mention the show for 5% off your first print order.

---
Kickstarter News
Something cool… The success rate for comics on KS went above the 50% mark… 50.1% to be exact. First time I've seen that!
Clearly ComixLaunch is working!
Number fluctuates, around that 50% mark for years… but as far as I'm concerned, no where close to where it can and should be… so we're not resting on our laurels here… We're DOUBLING DOWN!
---
What would we have done differently if we were running the Archie Kickstarter
Join the KS Community 1-2 Months before Launching
Back 10 projects
Do your homework
Run a strong Pre-Launch Campaign
KS got off to a very slow start…
Social Media Teasers
Emails to List
Narrow the Focus of the Project and the Lower the Goal
ex. Life with Kevin digital campaign
Lower the goal to something more reasonable
Simplify… Everything
Simplify the reward structure
Improve Transparency
Obviously transparency & more realistic goal are two good things to do.
Clarify the costs
The Target/ Wal-mart deal not relevant to this campaign
---
ComixLauncher
A ComixLauncher is a short, actionable activity you can and should do right now, or immediately after listening to the show. They're all activities I've done myself, and will get you one step closer to a successful ComixLaunch. They'll transform this Podcast from a passive, lean back activity centered around Tyler James, into an active, lean-forward activity centered around YOU.
Come up with at least three ideas for what would you have done differently to build a better Archie Comics Kickstarter?
Tyler mentions his email, I give mine

Email us your ideas at [email protected] & [email protected] using subject line: ComixLauncher #12. and let us know… how would YOU have righted Riverdale?
---
Bonus Content: Lessons from Archie E-book
It's a PDF presentation meant to dive deeper into the merits & failings of the Archie Kickstarter in order to extrapolate as many lessons as possible. It includes:
An explanation of the Archie Kickstarter & the controversy surrounding it
A bonus lesson in light of the cancellation of the project
An alternate Kickstarter strategy: How Archie could've put together a successful campaign, based off Kickstarter best practices.
A post-mortem, discussing what might come next from Archie and where they could go from here
If you'd like, you can download the entire 72-page eBook for free by pressing the button below. It'll also get you signed up for the awesome Creator At Large Newsletter.
Or, if you're not convinced, you can click here to learn more about the eBook!
---
SURVEY
Hey, guys! Before you go, I just want to remind you to head over to comixlaunch.com/survey in order to take our first ever listeners survey.
This survey will help shape the direction of this show and the resources we create over the coming months and into 2016.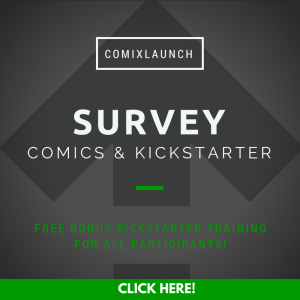 We're committed to making ComixLaunch the single best resource for comic book creators interested in using Kickstarter the right way to fund their projects, and advance their careers… but we can only do that with your input.
Please head to comixlaunch.com/survey and fill out the short survey, I promise it will only take a few moments and yet have a huge impact in what we're able to do for you.
And as a special bonus…
Everyone of you who completes the ComixLaunch survey will be given instant access to a private bonus ComixLaunch training! I promise you… it will be well worth your time, and comixlaunch.com/survey is where it's at. 
Podcast: Play in new window | Download | Embed
Subscribe: Apple Podcasts | RSS