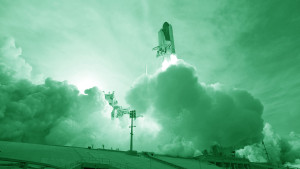 ComixLaunch host Tyler James is interviewed by Walter Haas of Kickspy, in an effort to uncover the secrets of successful Kickstarter projects.
---
Today's Session is Sponsored by
ComixTribe
Go to ComixTribe.com/subscribe for 5 Free Comics
---
Today's Session…
I have a very special interview for you today… in the hot seat getting interviewed is a creator who has successfully run 7 Kickstarters and raised nearly $170K on the platform… you may have heard of him… his name is Tyler James.
Now, before you think I've gone crazy and I'm interviewing myself on the show, or that my ego has super sized, let me tell you what's up with this week's session.
A few weeks back, I was contacted by a gentleman named Walter Haas, a mathematician in San Francisco and who's been studying successful Kickstarter projects for the past few years. For a while, he ran a site called Kickspy.com analyzing Kickstarter projects.
While Walter is primarily focused on the quantitative research side… he now wants to focus more on the qualitative side to balance out his knowledge of the platform. As such, he's talking to successful KS creators, seeking to pick their brains, similar to what I do in my interviews with creators, trying to find the mindset, strategies and tactics that lead to success.
So, he asked if I'd talk to him… I agreed, on one condition… that I could record the interview, for the benefit of YOU, ComixLaunch.
And so that's what I have for you today! But first…
---
ComixLaunch Survey Reminder!
Before I get into that, though, I wanted to mention the ComixLaunch Survey.
First, thanks to all of you who have taken it, and there are a ton of you who have. Jeremy and I are already taking action behind the scenes planning topics and future shows based on your responses.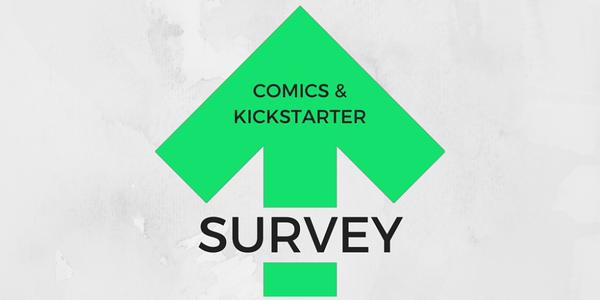 The survey is running until the end of the month Oct 31, 2015. We set a goal for the number of respondents and right now were' about 2/3rds of the way there.
If you've gotten value out of this show and want to see it continue and get even better, the single biggest thing you can do is take the survey.
(Next biggest thing you can do is share it with other creators, so we get even more responses and better data.)
Also, remember there is a Bonus KS Training unlocked at the end of the survey that you won't want to miss.
---
The Tyler James Interview
Here's Walter's list of Questions for Tyler James… We touch on most of these!
General Discussion Topic
What would you say are the biggest factors that led to your phenomenal success with your last Kickstarter campaign? Is there one or a few things that stand out the most?
To Connect with Walter Haas, email him at [email protected].
---
Today's Sponsor – ComixTribe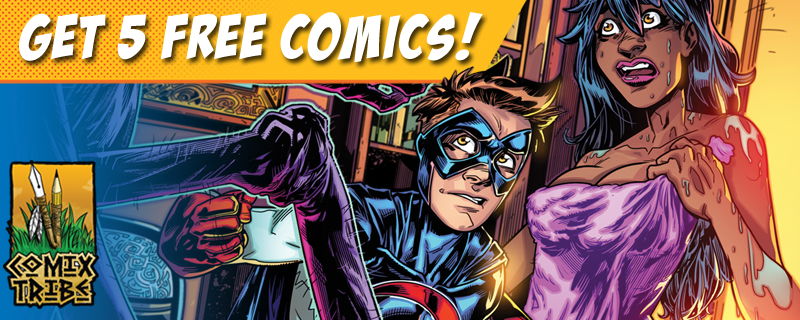 Click here for 5 free comics from ComixTribe. ComixTribe…Start here!
---
ComixLauncher
It's time for today's ComixLauncher.
A ComixLauncher is a short, actionable activity you can and should do right now, or immediately after listening to the show. They're all activities I've done myself, and will get you one step closer to a successful ComixLaunch. They'll transform this Podcast from a passive, lean back activity centered around Tyler James, into an active, lean-forward activity centered around YOU.
Write down one idea from this episode that you're going to take action on.
All of us our busy, but we all can spare 5 minutes to do this, and I'd love to hear what you came up with. Email me at [email protected], subject line: ComixLauncher #14.]
---
Final Quote
"It's much easier to do things right from the start than to fix them later."

– Guy Kawasaki
---
SURVEY
Hey, guys! Before you go, I just want to remind you to head over tocomixlaunch.com/survey in order to take our first ever listeners survey.
This survey will help shape the direction of this show and the resources we create over the coming months and into 2016.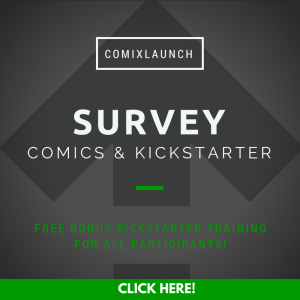 We're committed to making ComixLaunch the single best resource for comic book creators interested in using Kickstarter the right way to fund their projects, and advance their careers… but we can only do that with your input.
Please head to comixlaunch.com/survey and fill out the short survey, I promise it will only take a few moments and yet have a huge impact in what we're able to do for you.
And as a special bonus…
Everyone of you who completes the ComixLaunch survey will be given instant access to a private bonus ComixLaunch training! I promise you… it will be well worth your time, andcomixlaunch.com/survey is where it's at. 
Podcast: Play in new window | Download | Embed
Subscribe: Apple Podcasts | RSS