The Freedom Journal campaign, the first Kickstarter run by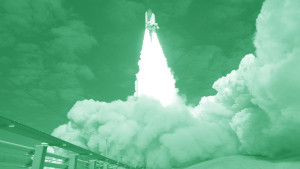 podcaster John Lee Dumas, raised more than $450K. In this session, Tyler breaks down five keys to the project's monumental success.
---
Today's Session is Sponsored by
KrakenPrint
Need a reliable printer for your next comic book or graphic novel print run? Then you need to unleash the Kraken. Head to ComixLaunch.com/Kraken for 5% off your entire first order.
---
Session Table Setting
Welcome back to ComixLaunch the podcast to learn about mindset, strategies, and tactics!
It's a lovely, Saturday in New England at 50 degress and about 8 inches of snow.  I gave my new snowblower a work out yesterday and today the snow's melting.
In today's episode, I'm going to share my big takeaways from phenomenal project.
Thank you to Kevin Joseph for the iTunes review.
Shout Out to Andrew Taylor, ComixLaunch Listener — ADVENTURES OF GALAXY GIRL IN OUTER SPACE: A Sci-Fi Comedy
ComixLaunch.com/review to Review the show
What is Today's Episode About?
You don't raise $420K+ by being lucky…
Over the past month, I've been watching, learning, and taking serious notes on the campaign for The Freedom Journal by John Lee Dumas.
The Freedom Journal is a deluxe planner designed to guide anyone in setting & accomplishing their #1 goal in 100 days.
With about ten hours left, it has raised more than $424,000 on Kickstarter (and funded 2 schools in developing countries… more on that later.)

The origin of this book was that it was the answer to the question John gets asked the most: Of the 1,200 successful entrepreneurs he's interviewed over the past few years, what's their secret?
What's the common thread that separates successful people from those who struggle? 
John's answer:
"Successful people know how to set and accomplish goals. Those who struggle do not." 
For me, the theme for the month of January was goal setting and thinking bigger.
I know I'm hardly alone in setting goals for the new year, but right around now is the time most resolutions fall by the wayside, as we sink back into our old routines.
Old routines…
The cynic in me would say that's a pretty good two word description of the comic book industry.
Last year, with the critical success of books like And Then Emily Was Gone andOXYMORON: The Loveliest Nightmare, I came to the realization that the quality of the books ComixTribe was producing was beginning to outstrip our ability to market and sell them.
As publisher, that's on me. 
In looking for answers on how to get more books into more readers' hands, I began to realize that maybe looking solely at what other comic book publishers are doing wouldn't give me the answers I was looking for.
So, I picked my head up a bit from the arcane world of the comics industry, dominated by two and a half publishers and controlled by a distribution monopoly, and started looking for ideas elsewhere.
It was then that I stumbled on John Lee Dumas, and his Entrepreneur on Firepodcast.
In just a few short years, John:
Took his very first podcast from absolute zero to a show that now gets more than a million downloads a month.
Built a business on the back of that podcast that regularly generates more than $300,000… a month! (Yes, a month.)
And he's now leveraged that platform to raise more than $420K for his first physical product, a book, the 4th most funded publishing project in Kickstarter's history.
So, for good reason, when John does something… I pay attention. 
And even though Kickstarter is an area that I know a thing or two about, having successfully run 7 Kickstarter projects that have raised more than $160K in funding, and having launched a podcast of my own where I talk about the mindset, strategies, and tactics that work for comic creators on Kickstarter, I knew I'd learn a thing or two by backing JLD's Kickstarter.
And I did.
5 Lessons from The Freedom Journal Kickstarter Campaign
1) Don't develop in secret.
John had been talking about The Freedom Journal publicly for at least six months, and with his inner circle for a year, prior to launching Kickstarter.
It was no secret that he was launching on January 4.
Now, compare that to how so many creators in comics work… we don't share ideas because we're afraid someone else will steal them.
We don't announce our projects in advance, because we want to launch with a bang, and we're afraid if we talk about them too soon, no one will cover the launch.
And then… we launch to crickets.
And even though I know about the value of the pre-launch interest building, I realized that even I don't start building buzz for my books and projects early enough.
2) Give 'em a juicy taste for free.
How has JLD built a seven-figure podcasting empire?
Well, for the most part, he's done it by giving away a ton of valuable content for free… and not just the podcast.
His Free Podcasting Course, for example, has been an extremely valuable resource in empowering new podcasters (like me!) to launch and grow their podcasts.
So, it was no surprise that, for The Freedom Journal, he would give away a big chunk of the book for free to anyone.
The power of free is nothing new… but again, we as creators are still reluctant to embrace it.
We think, "If I give away too much, no one will buy it?"
However, as the most successful creatives on the planet have shown time and again, if what you give away is quality, people will buy what you have to sell… and in far greater quantities than if you didn't provide valuable free content first.
3) When you launch, be everywhere.
Here's another JLD lesson… once the campaign launched, JLD was everywhere.
He was on every podcast I listen to, he was on social media, he was being written up in magazine articles and covered on news sites…
EVERY. WHERE.
He was not afraid to promote his book, because he was entirely confident in what he was doing.
Again, very different in comics…
In the world of comics, 80% of the time is spent creating books, and maybe 20% of time is spent promoting them.
(Actually, for many creators, it's more like 95% : 5%.)
Unfortunately, that's a disservice to the creators, the books, and the medium itself.
Comics, as a medium, have never been better than they are today.
Wouldn't it be nice if we let the rest of the world in on that secret?
4) Make your project about more than just yourself.
Obviously, with the income reports JLD publishes, it's clear he's not doing this Kickstarter because he needs the money… and that's certainly different than most creators and publishers going to Kickstarter.
But JLD recognized that Kickstarter isn't just about the funding… it's about the channel, and the ability to get his ideas and brand in front of an audience outside of his own established platform.
He also recognized that a campaign would give him the opportunity to make this project about more than just himself and his product… the focus of The Freedom Journal campaign was on how the book could help other people achieve their #1 goal.
And he also used it as an opportunity to partner with Pencils of Promise, and use the proceeds from The Freedom Journal to build schools in developing countries.
I know personally that it can be hard to think beyond funding the next book or the next series… but this campaign has reminded me to try to think bigger, and think about the potential impact you and your audience can have to make the world a better place.
5) Empower and incentivize your audience to spread your campaign for you.
And finally, it's no surprise that JLD's campaign is employing the latest and the greatest tools in the crowdfunding space.
He invited all of his backers to become "Boosters" of his campaign, by signing up for a Kickbooster.me account, incentivizing them to spread the word about The Freedom Journal Kickstarter.
It was through this campaign that I first learned about Kickbooster, and I immediately reached out to co-founder Scott Adamson to find out more about the Kickbooster platform.
(You can hear all about my discussion with Scott and all the details on how Kickbooster works on ComixLaunch Session 029.)  
Personally, I think Kickbooster + Kickstarter has the opportunity to be a game changer for both backers and creators, and am excited to see that develop.
And of course, I have JLD to thank for bringing that service to my attention.
So, there you have it…
I wanted to share these lessons with you, a member of my 'Tribe, who has been absolutely integral to everything we're building here at ComixTribe.
If you think you could use an accountability partner to help you achieve your goals, do check out The Freedom Journal campaign before it ends in a few hours:
I'm looking forward to receiving my Freedom Journal as a backer, and continuing to make big things happen through small, steady progress.

Best,

Tyler James

P.S. If you decide to get a copy of The Freedom Journal, let me know.  I'd love to hear what your #1 goal is… and look forward to checking back 100 days later to hear how you achieved it!
---
Sponsor – KrakenPrint
Last year, ComixTribe spent nearly $85,000 on printing.
While we rely on a number of printers to get our books to market, one printer I can strongly recommend is KrakenPrint…
Our friends Jacob Way and Sam Amborn at Kraken Print offer:
Competitive pricing.
Great customer service, especially for your first offset print run.
Monthly storage if you do not want to store hundreds or thousands of books at home.
Distribution options, including breaking down orders and shipping direct to Diamond or comic stores at their specially negotiated discounted rates on shipping.
And NOW they even offer Kickstarter fulfillment!
Kraken will pick, pack, and ship out orders for your backers.
If you want to unleash the Kraken, go to comixlaunch.com/kraken, mention the ComixLaunch podcast, and they're going to knock 5% off your first print run…and they're going to hook us up with a 5% credit.
It's a classic win/win/win/win – You get a great price on printing, your backers get a beautiful offset printed book, you help the podcast out, and Kraken gets your business.
That's comixlaunch.com/kraken for 5% off your entire first print run.
---
ComixLauncher
It's time for today's ComixLauncher.
A ComixLauncher is a short, actionable activity you can and should do right now, or immediately after listening to the show. They're all activities I've done myself, and will get you one step closer to a successful ComixLaunch. They'll transform this Podcast from a passive, lean back activity centered around Tyler James, into an active, lean-forward activity centered around YOU.
ComixLauncher 31 –
Tell someone about your Kickstarter idea.
All of us our busy, but we all can spare 5 minutes to do this. [NA — What comes out on paper may surprise you. And if you'd like to share the results of your ComixLauncher with me, I'd love to see them. Email me at [email protected], subject line: ComixLauncher #31.]
---
Wrap Up
The Five Key Lessons:
1) Don't develop in secret.
2) Give 'em a juicy taste for free.
3) When you launch, be everywhere.
4) Make your project about more than just yourself.
5) Empower and incentivize your audience to spread your campaign for you.
Quote
"The Greater Danger for most of us lives not in setting our aim too high and falling short; but in setting our aim too low, and achieving our mark." – Michelangelo
Thanks for Listening.
We're going to go even deeper into both mindset, strategies and tactics for making KS work for you.
Thank you so much for listening, and for letting me walk with you, as you taken another step forward toward your next successful ComixLaunch.
---
Have You Subscribed, Rated, or Reviewed ComixLaunch Yet?
If you've enjoyed this Session of ComixLaunch, I need you to do me a favor… actually, I need three favors. Please Subscribe, Rate and Review ComixLaunch on iTunes.
They're the rocket fuel this show is running on, and the sooner you do it, the more powerful your action will be. Don't wait to give us some love!
>>> CLICK HERE TO LEAVE A REVIEW ON iTUNES <<<
Provide a rating, 1-5 stars and leave an honest review.
This can be done in less than 2 minutes and could make HUGE difference to the show.
Podcast: Play in new window | Download | Embed
Subscribe: Apple Podcasts | RSS