Andrew Pawley of GalaXaFreaks swings by ComixLaunch to talk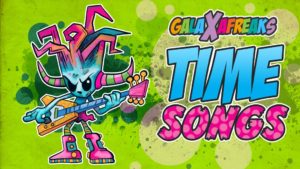 about his experience successfully launching multiple projects on both Kickstarter AND Indiegogo. Andrew will also share some of the ways he's leveled up his audience growth after joining the ListLaunch program.
---
Highlights of this Session Include:
Turning lessons from failure into success in crowdfunding.
Kickstarter vs. Indiegogo, and which platform Andrew plans on sticking with.
Cool and unconventional ways Andrew delivers a freaky amount of value to his audience.
Plus: You're invited to take the ComixLaunch Kickstarter Page Survey at ComixLaunch.com/pagesurvey
---
Today's Session is brought to you by
Purebuttons, your go-to resource for custom buttons of all shapes and sizes.  
Go to ComixLaunch.com/purebuttons for 10% off your next order of custom buttons.
---
Guest Introduction: Andrew Pawley
My guest today brings the world psychadelic science fiction and cosmic comic capers at Galaxafreaks.com. He's a talented artist and designer and has managed several successful campaigns both on Kickstarter and Indigiegog to bring the Galaxfreaks to freaky folks around the world.
Galaxafreaks Timesongs Kickstarter — https://www.kickstarter.com/projects/galaxafreaks/galaxafreaks-time-songs-issue-1?ref=nav_search
---
ComixLauncher
It's time for today's ComixLauncher.
A ComixLauncher is a short, actionable activity you can do immediately after listening to the show. They're all activities I've done myself, and will get you one step closer to a successful ComixLaunch. They'll transform this Podcast from a passive, lean back activity centered around Tyler James, into an active, lean-forward activity centered around YOU and your projects.
ComixLauncher [084]
Ask your audience a question.
Share results @ comixlaunch.com/voicemail or in an email [email protected]
ListLaunch: Step-By-Step System Learn to how to start, grow and energize an email list of fans big enough to successfully launch your project on Kickstarter… and beyond!
ComixLaunch.com/ListLaunch
ListLaunch is a program for you if…
– Wish you new how to start an email list from scratch and communicate without feeling like a nuisance or that you're bothering them.
– Wish you were building your email list faster and more automatically.
– Lack confidence in drumming up interest for your work.
If you've had success on Kickstarter but are concerned that most of your funding comes from friends and family and you're struggling to grow beyond that."
– How the hell do you find your auidence… and once you find them, how to you keep them energized, even when you have nothing launch?
– How do maximize the small audience you do have?
– Getting the word out beyond just your own reach.
– How do you get your audience to spread your work for you so you can attract more people like them.
Enrollment is open, but it will be closing soon. Why?
– Want to make it even better. Add more trainings… more creators I work with, more people in the community, more ideas for making it even more awesome.
– So, it'll shut down for a bit…
– When we reopen, the price will go up, because the value will have gone up.
– If you're interested in getting in before that happens, ComixLaunch.com/listlaunch to check it out.
– Get in there with myself, Andrew, and more awesome, hardworking creators building audience, building a peer network, and launching their art into the world.
---
Have You Subscribed, Rated, or Reviewed ComixLaunch Yet?
If you've enjoyed this Session of ComixLaunch, I need you to do me a favor… actually, I need three favors. Please Subscribe, Rate and Review ComixLaunch on iTunes.
They're the rocket fuel this show is running on, and the sooner you do it, the more powerful your action will be. Don't wait to give us some love!
>>> CLICK HERE TO LEAVE A REVIEW ON iTUNES <<<
Provide a rating, 1-5 stars and leave an honest review.
This can be done in less than 2 minutes and could make HUGE difference to the show.
Podcast: Play in new window | Download | Embed
Subscribe: Apple Podcasts | RSS