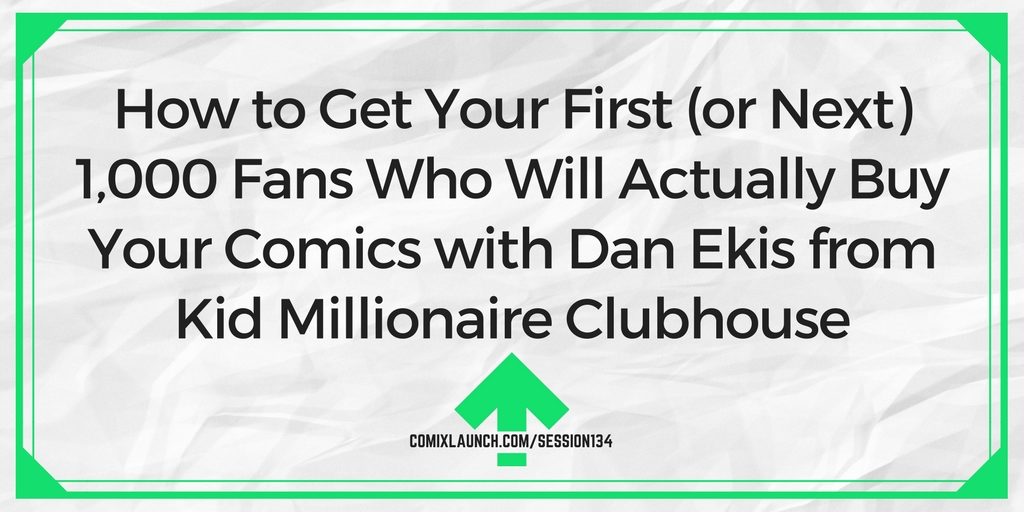 Independent comic creator Dan Ekis shares how you can get your next 1000 followers who will pay for your comics.
---
Highlights of this Session Include:
How to get your next paying customer in the next 7 days even if you don't have a comic to sell yet.
How you can build a following that will pay for your comics (and save time doing it).
How Dan grew his email newsletter from 0 to 1000+ subscribers in a few short months.
How Dan got over 200 real followers overnight without spending a dime.
---
This Session is Sponsored by ComixTribe
Go to ComixTribe.com/subscribe for 5 Free Comics
---
Today's Featured Guest
Dan Ekis an independent animator and illustrator, and creator of the upcoming fantasy comic Soul of the World. He also hosts the Kid Millionaire Clubhouse on Facebook, and Kid Millionaire Chats with comic creators.
---
Links Mentioned in this Episode
Tyler's Interview with Dan Ekis for Kid Millionaire Chats –> http://danekis.com/blog/2017/12/21/how-to-build-a-following-who-will-buy-your-comics-with-tyler-james-podcast
---
ComixLauncher [134]
Test one new strategy for growing your following? Pick one platform. One strategy. Set a time limit. See what happens. And tell ME (or your audience) the results.
---
How to Find Out More About Today's Featured Guest
Check out Dan's website: http://DanEkis.com/
For an example of one of Dan's landing pages, go to DanEkis.com/Free
Podcast: Play in new window | Download | Embed
Subscribe: Apple Podcasts | RSS