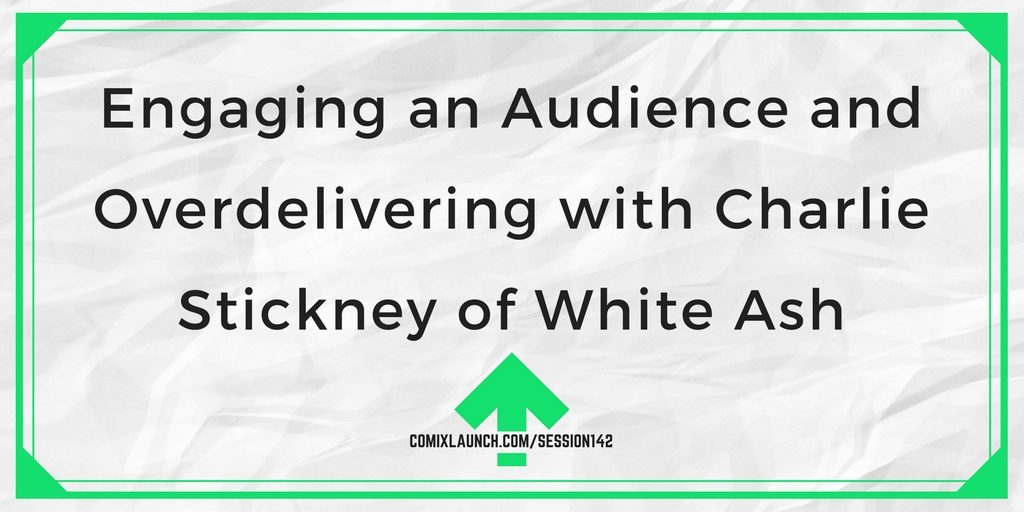 Charlie Stickney, writer and creator of White Ash, shares his innovative campaign and promotion strategies for notching two five figure comic book Kickstarter launches for his new series.
---
Highlights of this Session Include:
Why there's no substitute for actually delivering on the promise of your Kickstarter page.
Why some Kickstarter creators experience a "sophomore slump" and how the White Ash team avoided one with their second campaign.
Innovative Kickstarter campaign and reward strategies.
Plus: How the White Ash team is harnessing the Twitch platform to generate rabid fans and day one supporters.
---
Learn More About the Launch Serialization Strategy!
This Session is Sponsored by FB ADs Demystified!
How Writers & Artists Can Profitably Use Facebook Ads to GenerateSubscribers, Backers & Sales on Autopilot (Even on a Tiny Budget!) Sign-up for this FREE ComixLaunch Workshop at ComixLaunch.com/fbads
Are you in need of more readers, subscribers, Kickstarter backers and customers for your books and art?
Have you ever wondered if Facebook ads actually work for writers & artists?
Have you tried FB ads, but been frustrated that all you seem to be paying for is "likes" and "engagement" but not getting much in the way of actual subscribers, backers & sales?
Then my new FB ADS DEMYSTIFIED! Workshop is for you!
Register for Free –> ComixLaunch.com/fbads
In this online training, I'm going to teach you how to steadily and predictably build your audience, grow your email list, drive people to your Kickstarter campaigns and other online promotions, and generate more backers and sales WITHOUT spending all of YOUR time marketing.
In this free workshop, I'll answer the most common questions creators ask me all the time about Facebook ads, including:
✔ Do Facebook Ads actually work for writers & artists?
✔ How do I get my ads to convert instead of just getting "likes" (meh!) and "engagement" (ugh!)?
✔ How do YOU use Facebook ads and get real results with them for your creative projects?
This is the training I wish existed 5 years ago when I first started dabbling into FB Ads, as it would have cleared up a whole lot of fear and confusion… (and would've made me a lot more sales!)
I don't know anyone else in our space who is teaching this stuff specifically for comic creators, publishers, writers & artists, so I'm excited to demystify FB ads for my tribe!
See the available times and register for the next FREE training today at ComixLaunch.com/fbads
I'l see you at the FB Ads Demystified workshop and can't wait to see what you launch next!
---
Today's Featured Guest
Charlie Stickney is a writer and producer with almost 20 years experience in virtually every aspect of the entertainment industry, including animation, film, TV & comics.
He's worked for Sony Pictures, Revolution Studios, Hulu and Scholastic Productions. He's developed and created shows like Cosmic Quantum Ray and Horrible Histories.
While in college, he interned in the editorial offices at Marvel.
And he has been building a mighty following for his series WHITE ASH, funded on Kickstarter.
---
Links Mentioned in this Episode
https://www.twitch.tv/conorhughes
---
ComixLauncher [142]
Take a little time to explore the Twitch.tv platform.
Could you or someone on your team leverage this platform?
---
How to Find Out More About Today's Featured Guest
Thanks again, here's the link to Conor's Twitch channel. https://www.twitch.tv/conorhughes
If anyone's interested in White Ash, (and this airs after the campaign is over which I'm assuming it will) they'll still be able to preorder/order copies here —
http://bit.ly/chapterTWO
Podcast: Play in new window | Download | Embed
Subscribe: Apple Podcasts | RSS