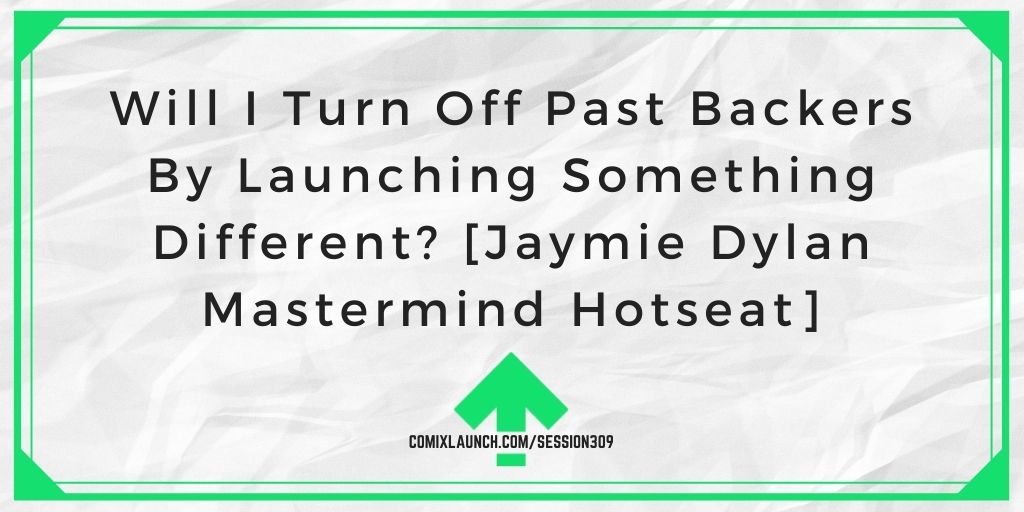 Writer/artist Jaymie Dylan is concerned that her next Kickstarter project might be too different from her last one to bring her existing backers back for more. In this mastermind style session, the round table discusses personal branding and strategies for multi-talented, multi-interested creators can use to get their audience to follow them, regardless of what they're creating.
---
Highlights of This Session Include:
How to judge whether your audience will follow you from one project to another.
What if your actual customers don't match the people you're making your books for?
The ever-present pitfalls of overthinking for creators.
Plus: The trials, tribulations and ComixLaunch lessons learned from Tyler's first post-pandemic trip.
---
Today's Session is Brought to You By…
…the ComixLaunch Mastermind. If you would you like to meet once a month with a group of serious, like-minded creators to talk about your projects and creative business for mutual support and accountability this year, go to ComixLaunch.com/mastermind and get on the interest list.
---
In the Mastermind Hotseat Today:
Jaymie Dylan grew up in Canada on a steady diet of Horror Movies and Saturday Morning Cartoons. This turned my style into a bright, colorful, terrifying blend of the two. I love working with dark imagery, rendered in bright colors and dark outlines. I still love cartoons and horror movies, and I watch them while drawing creepy cute girls having adventures.
---
---
In the Mastermind Round Table
George O'Connor (Comic Book Writer, Filmmaker, Heavy Metal Musician)
Ryan Claytor (Professor of Comic Art, Comic Creator & Podcaster)
Robert A. Multari (Comic Book Writer, Graphic Designer)
D. P. Brown (Comic Writer, Podcaster)
---
Links Mentioned in Today's Show:
---
More About Our Sponsor:
If the idea of meeting regularly with a small, focused group of like-minded creators to share resources, sharpen and strengthen your creative business strategies and to support each other in mutually benefical ways, sounds good to you… stop whatever it is you're doing now and get over to ComixLaunch.com/mastermind to get on our interest list.
I've been running these creator mastermind groups for nearly four years, and I've seen how powerful they can be for the right creators.
See Every creator has blindspots…
We ALL have things we can't see from the inside.
We all struggle with self doubt and paralysis, and we are all prone to getting stuck.
Albert Einstein said "we can't solve problems by using the same kind of thinking we used when we created them."
If you're ready to get new perspectives and solutions on your challenges from creators who have overcome them, a mastermind can provide that.
The right mastermind will support you, not let you fail, and push you to new heights.
But I get it… Many of you have gotten to this point largely on your own and are proud of that fact.
(And you should be!)
But at a certain point, what got you here, won't get you there.
Your network may be your single greatest asset, and being a part of a dedicated mastermind group will quickly become the most invaluable part of your network.
Joining a MasterMInd may be just what you're looking for IF…
…if you're overwhelmed by all of the possible projects you could do and need CLARITY on what you should be doing to actually achieve your creative goals.
…you're looking to create your biggest launch ever and have a breakthrough year.
…you feel like strategy, coaching, community and support are currently missing in your creative life and business.
…you're ready to grow your network of quality peers to include serious creators with whom you can talk strategy, growth, and taking your creative business to the next level.
If that sounds like you, go over to ComixLaunch.com/mastermind today, and I can't wait to start working with you!
---
ComixLauncher [309]
What's the worst thing that's happened to you recently… and what's the biggest lesson you can learn from it?
---
How to Find Out More About Today's Hotseat Creator:
instagram.com/missjaymiedylan
twitter.com/missjaymiedylan
facebook.com/missjaymiedylan
Podcast: Play in new window | Download | Embed
Subscribe: Apple Podcasts | RSS